Let's start with a short history lesson. When the British Motor Corporation unveiled Sir Alec Issigonis's masterpiece – the Morris Mini-Minor – in 1959, it was hailed as the perfect answer to the fuel shortage brought on by the Suez Crises. The original tenet was to develop a car that would fit inside a 10x4x4 feet box and that passenger accommodation should account for 60 per cent of the overall length. Quite by accident, it also proved to be fun to drive.
Fifty six years later and the original concept has changed from a single model into a full stand-alone range with cars to suit every need. There's still a regular Mini 3-door of course, but there's also a Clubman, Countryman, Coupe, Paceman and the subject of our test, the Mini 5-door.
Supersized Mini
To fit in the imaginary 10-foot box, the original Mini-Minor had a 2036mm wheelbase and a 3054mm overall length. The new Mini 5-door sits on a 2567mm wheelbase and measures 4005mm from end to end. That's 155mm more than the 3-door with 72mm of extra space between the wheels compared to a Mini 3-door. Interestingly, the Mini Countryman has a 2595mm wheelbase and 4110mm overall length.
What the numbers can't convey though is how the extra length and extra doors affect the classic MINI looks. While the 3-door looks every inch a modern interpretation of the original, the 5-door unfortunately looks like a family hatch with a Mini nose tacked on the front, especially when viewed from the side. There's also perhaps too much glass area with the rear quarter window looking particularly awkward.
It really comes as a surprise because we're now fairly used to seeing a Mini with five doors as the Countryman has been around since 2010. Perhaps it's the unchanged height, which means the 5-door looks more like a slammed hatchback instead of a cheeky sporty small car. To sum up the looks of the 5-door Mini, I'm going to quote a former colleague. "It looks like a hearse for hipsters!"
Grown up performance
Just in case you forgot, this is the third generation of Mini since BMW acquired the brand. The first one used an engine shared with Daimler-Chrysler. The second one was powered by Peugeot's "Prince" 1.6-litre motor. This new Cooper S has a much better engine heritage.
Nestled underneath the short bonnet is BMW's brand-new B48 four-cylinder 2.0-litre turbocharged engine. Part of their new modular engine family (the Paceman uses a 1.5-litre three-cylinder turbo), it'll also be used in the 3-Series when it gets its mid-life refresh. How BMW can use the same engine in a transverse and longitudinal installation is beyond me, which is probably why I write about cars rather than design them.
This motor is a gem. The headline figures are 192hp at 4700rpm and 280Nm at 1250rpm and it's mated to an Aisin six-speed automatic. Despite lugging around an extra 120kg of kerb weight, Mini claims a 0-100km/h time of 6.8 seconds with a 230km/h top speed for the 5-door, which is only 0.1 seconds and 3km/h down on the 3-door.
Those are impressive numbers and it feels quicker from behind the wheel. Rev out the engine and every gear up change is accompanied by an exhaust pop as the car rockets deep into three-figure speeds. There's a visceral physicality to the way it accelerates and because you're seated so close to the upright windscreen, there's a sense of the horizon and slower cars rushing up to meet you. A healthy amount of wind noise completes the experience and it's so addictive I doubt any owner will be able to resist performing a full-bore acceleration run, on a daily basis.
Helping things along are selectable driving modes. Just like DDC on a BMW, Mini Driving Modes allows you to choose different maps to suit your driving mood. For the 5-door there are Green, Mid and Sport modes to choose from. The default is Mid but Green works well for daily driving while Sport is what you use when you're in a hurry.
Aside from the outright speed, the eager handling of the 3-door Mini has also survived the transplant to the bigger car. The steering is sharp and direct and the car corners flatly, resisting body roll like a politician resists criticism. The ride comfort is surprisingly refined too, though if you expect it to float over bumps like a family saloon you're clearly unclear of the Mini concept.
Family friendly
So if the Mini 5-door Cooper S feels about 95 per cent similar to its 3-door cousin, the only reason to opt for it over the prettier smaller car would have to be space. Well, there's space and a surprising amount of it. While the 3-door is a squeeze at the back even for kids, the 5-door allows both children and adults to enjoy the experience from the rear seats. I can sit comfortably behind a seat that's been adjusted to my driving position and though foot room is still a bit tight, the heavily scalloped seat backs allows for daylight ahead of your knees.
The rear seat is also configured for three instead of two passengers, but as the three and five-door share the same overall width, the middle seat is best used for short journeys. There's also a bigger boot to fill up. The 278-litre luggage space is 67-litres more than 3-door, and if you fold the seats there's a respectable 941-litres available. Not exactly huge by family hatch standards, but it's big for a Mini.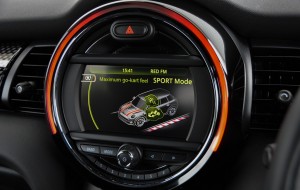 Oh, a word about the interior styling. The third generation car carries on the styling themes used in its predecessor, but the in-car interface has beautiful graphics, is easy to learn and makes you feel like you're using a premium product. Build quality is up too, as is the feel of the switchgear used so it looks like BMW is finally giving us a quality small car to match the premium prices it charges.
Final say
At RM238,888 you'll have to pay an extra RM10,000 to get two extra rear doors on your Mini. By opting for the 5-door, you'll end up with a less attractive car but one that's just as fun to drive and massively more practical than the Mini Cooper S 3-door. To me, that's worth the sacrifice in looks and there's something to be said about picking off bigger cars on a winding road in a Mini that looks more suited to soccer moms. So, if you're aching to get a new Mini, I suggest you start looking here because the 5-door is all the Mini you'll ever need.
---
Mini Cooper S 5-door
Price: RM238,888
Engine: 2.0-litre, 4-cylinder, turbocharged petrol
Output: 192hp @ 4700rpm, 280Nm @ 1250rpm
Transmission: 6-speed automatic w/steering shift paddles
Performance: 0-100km/h in 6.8 seconds, top speed 230km/h
Fuel efficiency: 18.2 km/l (combined cycle)
Wheels/tyres: 17in alloys, 205/45 R17
Safety: 6-airbags, Electronic Stability Control
Warranty: 2-years unlimited mileage