Nvidia, Tegra 3, 1,440 x 540-pixel. These are references typically found in a smartphone or tablet review. But we are sitting in an Audi TT, peering straight into its instrument cluster which…doesn't bear any instruments in the physical sense. Dubbed the Virtual Cockpit, this fancy piece of tech is set to adorn most, if not all forthcoming models. And Audi is betting that we're going to love it.
We liken to a "bet" because the manufacturers have dabbled in digital displays before, only to retreat to the safe haven of analogue dials and pointers. But that was before the Internet age descended upon us, before cats and Facebook became partners of fame, before messaging apps made speech optional, you get the drift. Like it or loathe it, advances in personal technology have changed the way we consume information, so having a very clever Liquid Crystal Display (LCD) paint us a set of virtual pointers and dials is a reflection of the times.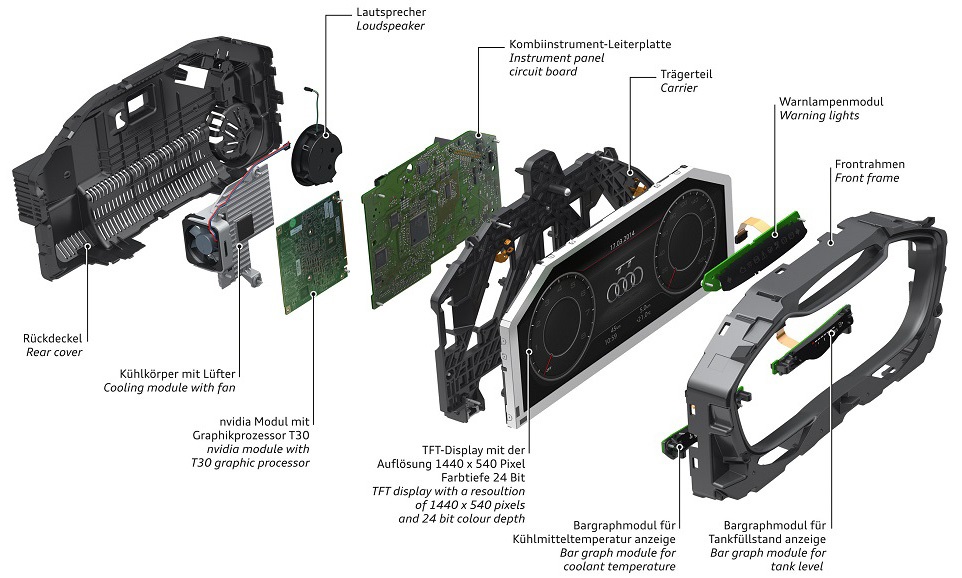 The hardware
Put together by Bosch and powered by a quad-core Tegra chipset from Nvidia, the famed maker of graphics and mobile computing processors, the Audi Virtual Cockpit is a 12.3-inch (measured diagonally), 24-bit colour LCD with a resolution of 1,440 x 540 pixels. Its pixel density of 125ppi (pixels per inch) is nothing to shout about compared to a current smartphone or tablet, but since the viewing distance is quite a few feet away (as opposed to inches for a mobile device), you won't be able to pick out any pixel. More importantly, frame rate is at a very speedy 60fps (frame per second), which is within the realm of high-end video gaming and well above the motion picture standard's 24fps. So Virtual Cockpit promises to be a highly responsive display capable of rendering smooth motion such as that of a rev counter. 
Virtual cockpit in motion
In a nutshell, the display is gorgeous. The blacks are deep and true, forming the basis of a high contrast display with a good perception of depth, even with sunlight shining on it. Audi has kept to its familiar white-on-black scheme, with slim red pointers on the dials. The font set is neat and recognisably Audi (no need to mess with what's right), while the oversized numerals are slightly italicised for a sportier look in the TT. Subtle details such as the shadow cast by the pointer as it sweeps past the numbers, reflection on the outer bezel of the dial are all intricately reproduced for authenticity.
There are two viewing modes: "Classic" – where the speedometer and tachometer dominate in a traditional side-by-side layout, and "Infotainment" – where the dials are reduced in size and pushed towards the lower corners of the screen, freeing up the display for a more expansive view of the map, or to better handle tasks such as the input of addresses or the manipulation of vehicle settings. In the TTS, you have an additional "Sport" layout with a dominant central rev counter and segments of information flanking it, and this is what this writer settled on.
The processing power driving the Virtual Cockpit is clearly up to the task, transitions are buttery-smooth and there are no stutter or lag. Every available function can be controlled via the steering-mounted switches, which means you never need to lift your hand off the wheel. And since the TT doesn't come with a centre display, there is a lower tendency to resort to the MMI dial when using Virtual Cockpit.
An extended period of familiarisation is mandatory if you intend to uncover Virtual Cockpit's trove of functions, but calling up secondary functions and sub-menus via the bi-directional buttons and scroll wheel requires much more than just muscle memory, so unless you concentrate on the task at hand, it's all too easy to make an inadvertent tap that results in having to start over.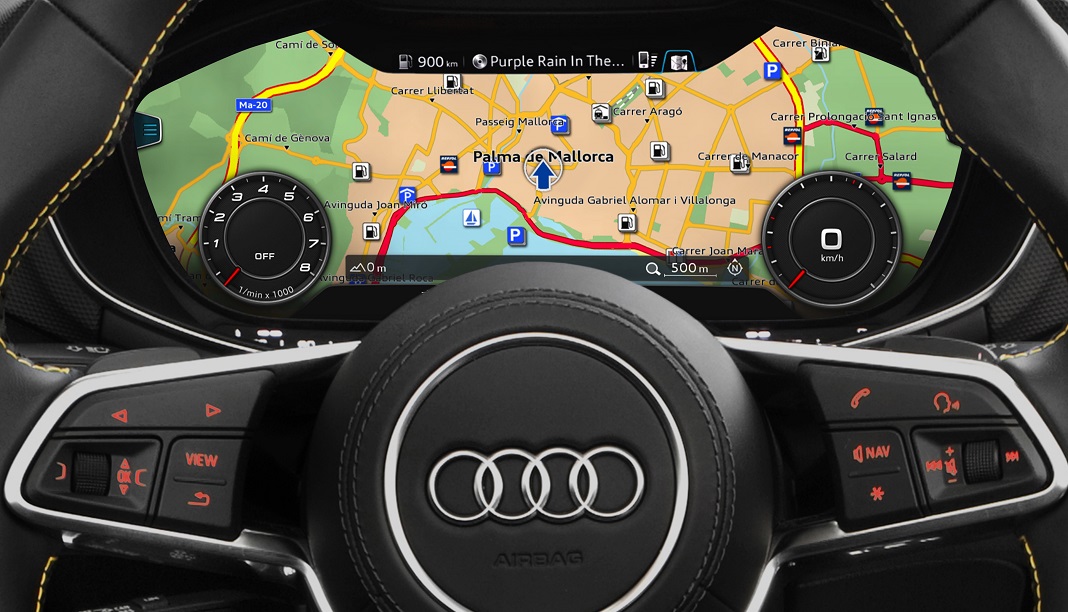 Suffice to say, one should always refrain from fiddling with the Virtual Cockpit while the car's in motion. Our guess is that the average owner who has no love for the study of handbooks or manuals (electronic copy or otherwise) is likely to stick with just a few familiar routines and be done with, geeks-at-heart on the other hand will revel in its many layers of complexity.
Will Virtual Cockpit fly?
For a brand that champions Vorsprung durch Technik, or advancement through technology, the Virtual Cockpit is a fitting progression. Usage complexities notwithstanding, Virtual Cockpit is spot-on in its execution – catchy, visually arresting, and according to Audi, can even be upgraded over time. Yet it's probably too early to dismiss the timeless appeal of analogue instrumentation in automobiles (note how smartwatches have struggled to catch on), but in terms of pitching a unique selling point car buyers are able to connect with easily, the Virtual Cockpit and its kind are destined to take flight.