Over the 12 months of 2015, BMW sold 1,905,234 cars across the globe, which is an increase of 5.2% over 2014 – its fifth consecutive annual sales record. This new milestone kept the Bavarian kidney grille in front of Stuttgart's charging three-pointed star by a mere 33,723 units, and crucially along with it, the rights to brag for one more year, at least.
Considering that the new UKL (for Untere Klasse or Lower Class) front-wheel drive models, namely the 2-Series Active Tourer and Gran Tourer (new X1 only came along end of 2015) accounted for 107,000 units (or 5.6% of total) in their first full year of sales, you could say they were pivotal in retaining BMW's No. 1 status over an arch-rival whose own double-digit growth was fueled largely by…yes, you've guessed it, compact FWD models.
Front-wheel drive: the necessarily evil
According to BMW, front-wheel drive models will eventually make up for a whopping 40% of all the cars it sells by 2020, with first-time owners forming the majority. So yes, more FWD models will come as luxury brands make the 'entry' segment their new battleground. But after decades of chanting the mantra of RWD, how does a brand so focused in the 'drive' manage the about turn?
My guess is that BMW is probably still figuring out how best to reconcile all the practical goodness of a FWD with the underlying message of sheer driving pleasure. Whereas one wouldn't bat an eyelid if Mercedes-Benz or Audi rolls out another front-axle driven model, in the case of BMW, just about everyone, be it the casual observer or die-hard, wants…no, demands to know whether these new-generation FWDs do justice to the badge. So we drove two of them recently to find out.
New BMW X1: Reengineering the DNA
So let's cut to the chase. In large parts and I suspect for the bulk of its buyers, the answer is a 'yes'. If BMW-ness is manifested in agile road-holding, taut body control, a willing powertrain, along with a fun factor that increases with speed, then the F48 X1 is very likely the BMW you've always wanted to score. But for those in the know, there are two element – traction and steering – that the X1 can't quite measure up to a RWD, at least not with the lone FWD-only sDrive20i variant offered in Malaysia.
There are many reasons why sports cars (and race cars) are rear-wheel drive; the ability to lay down power cleanly as the inertia moves rearwards at the point of acceleration happens to be a very important one. With weight shifted momentarily to the back, the rear tyres are then able to generate higher traction to propel the vehicle forward. The opposite is however true when power is fed through the front axle, the twisting force (not an insubstantial 280Nm for the X1) can overcome tyre grip, which in turn causes wheel spin. And while the electronics in the X1 does well to suppress that, instances of torque steer do occur when the wheel isn't pointed straight (e.g. when coming out of a corner), and it is manifested in little tugs felt through the steering under hard acceleration.
That being said, the FWD traits very rarely detract from the fun that one can have with the X1. It's fast enough for one (0-100km/h in 7.7sec), the responses from the 192hp 2.0L turbo-charged four-cylinder and 8-speed auto (an Aisin unit like in the Mini , but with two more cogs) are snappy and crisp, while the X1's dogged resistance to roll and understeer are astonishing for an SUV. The DNA of driving pleasure is clearly present in the X1, but it now belongs to a different strand. So instead of rewarding the driver like how a traditional RWD BMW would, the new X1 drives with the verve and sparkle…of a Mini. And that's pretty cool too.
Once you go front, you won't go back
Now that it has a FWD platform to work with, BMW has somewhat freed itself from the shackles that RWD imposed on design. In the case of the X1, being more conventionally shaped has actually incurred little aesthetic penalties. Its shorter bonnet, extended greenhouse and taller stance lend it a more legitimate SUV presence. The X1 is miles better proportioned, and easily a more handsome product than the last one. Whether you prefer the design of the X1 over the Mercedes-Benz GLA or the Audi Q3 is however a question of taste, but in terms of size, the BMW currently holds the edge.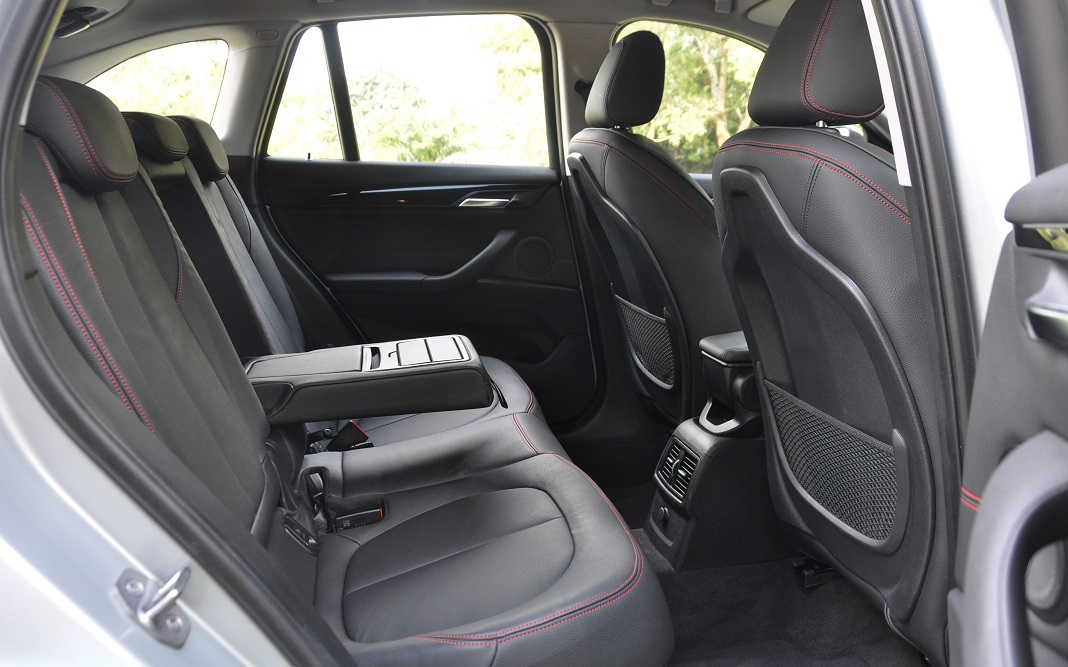 Like a right-wing presidential candidate trying to woo centrist voters, gone are the days when BMW would just shrug its shoulders when asked why it didn't offer cup-holders. You'd only need a moment in the X1's cabin to understand why a FWD configuration makes such practical sense, particularly for an SUV. Legroom and headroom can now be crossed out from the old X1's grievance list, and you can't fault a boot that measures more than 500 litres in volume, or over 1,500 litres with seats folded either. For comparison, a Honda CR-V does 589 litres and 1,146 litres (blame the latter on the shorter wheelbase). So yes, the X1 outguns a CR-V in full cargo mode, which kind of says it all. And it's worthwhile to point out that all the room has not come at the expense of quality, the touch points are all properly premium and not untere klasse.
Gasp! Is that an MPV?
Let's just say that the 220i Gran Tourer – the first ever seven-seat MPV to bear that blue-white roundel – isn't BMW's proudest moment in exterior styling (what's with the droopy front end?), even if MPVs are rarely objects of beauty. In that sense, the Gran Tourer does look mildly sporty with its 17-inch multi-spoke alloys filling up the wheel arches nicely, and dual exhaust outlets punctuating the rear bumper, but little else is memorable.
It would be a shame if the Gran Tourer's lack of visual excitement turns out to be a deal-breaker because BMW's first attempt at an MPV is a freakishly good one, at least on the inside. They've taken the trouble to differentiate its interior from that of the X1's with a more upscale dashboard design (note the contrast stitching, reconfigured centre console, etc.), and as if to prove that BMW is focused not just on the driver, amenities such as powered tail-gate, comfort access (locking/unlocking of doors via detection of proximity key), reverse camera are standard (all curious omissions on the similarly priced X1), along with large door bins and cubbyholes that are genuinely useful, it even has cavity under the rather clever luggage cover with which to stow the tonneau cover when all seats are required.
And since we've already established that the X1 is spacious, the Gran Tourer's longer wheelbase (2,780mm against X1's 2,670mm) and wider second row means five passengers can stretch out. Yet it is the third row – typically dubbed a '+2' on compact SUVs by most carmakers so as not to overpromise – that surprises; it actually fits adults. Okay, they can't be LeBron in height and won't be seated as dignified a manner as other occupants, but getting there is easy, and the floor is low enough for toes to tuck under the second row. And if the occupants up ahead play ball and slide their seat a couple of inches forward, there's no reason to feel sorry for the two individuals at the back.
For moms and dads who like to drive
We can see how the Gran Tourer would endear itself to soccer moms and dads looking for the occasional spirited drive home, or to the office after dropping off the kids at school. Powered by the same 192hp/280Nm four-cylinder turbo motor as in the X1, the Gran Tourer is, according to the spec sheet, a shade faster than its SUV sibling from idle to 100km/h (7.6sec).
As you'd expect, the driving dynamics are similar to its SUV sibling, but the Gran Tourer is understandably not quite as nimble nor as planted in the corners as the X1 due to the its height and less sticky rubber, but this is as close to a three-row Mini we'll ever get, whether it needs to be this aggressively sprung or ride as firmly as it does (to the point of being brittle at times) is something for prospects to ponder over during their test drives.
So has BMW sold its soul?
Globally, BMW has sold more luxury cars than any other brand since 2005. If it is to continue doing so, it needs strong representation in growth segments such as SUVs and front-wheel drive models. For sure, purists and die-hards would point to the dilution of the brand in the long term, but the reality is that in order for BMW, or any carmaker for that matter, to develop and offer exciting (but slower selling) stuff, the bread-and-butter models has make up the numbers.
It is the start of a new chapter for BMW, but we've been here before; from creamy V8s and inline sixes to duller four-pots, from high-winding naturally aspirated engines to downsized turbos, advances in technology will somehow find a way to smooth the transition, maybe the answer lies in electrics. In the meantime, the big challenge rests with the marketing brains on how to work in a more wholesome message without stripping the excitement. I'll chip in with a new slant on the tagline, how about "Sheer Driving Pleasure, and Much More"?
---
BMW X1 sDrive20i
Price: RM279,800 (incl. GST, w/o insurance)
Engine: 2.0-litre, four-cyl, turbo petrol, FWD
Output: 192hp @ 5,000rpm, 280Nm @ 1,250rpm
Transmission: 8-sp automatic
Performance: 0-100km/h in 7.7 seconds, top speed 225km/h
Fuel efficiency: 16.9 km/l (combined cycle)
Wheels/tyres: 18in alloys, 225/50 R18
Safety: 6-airbags, Electronic Stability Control
Warranty: 5-year (unlimited mileage) w/ free maintenance package
BMW 220i Gran Tourer
Price: RM279,800 (incl. GST, w/o insurance)
Engine: 2.0-litre, four-cyl, turbo petrol, FWD
Output: 192hp @ 5,000rpm, 280Nm @ 1,250rpm
Transmission: 8-sp automatic
Performance: 0-100km/h in 7.6 seconds, top speed 221km/h
Fuel efficiency: 16.1 km/l (combined cycle)
Wheels/tyres: 17in alloys, 205/55 R17
Safety: 6-airbags, Electronic Stability Control
Warranty: 5-year (unlimited mileage) w/ free maintenance package