In its literal form, Gong Xi Fa Cai means "Congratulations, become rich!", it's a wish any receiver would like to come true, but you can't help but feel that it has become a tad disingenuous. After all, the acquisition of wealth is never guaranteed in anyone's lifetime, and most certainly not achieved in a short span of time.
Not unless…you're the leader of a particular South East Asian nation. As the recipient of an unbelievable no-strings-attached donation/investment from a foreign government/prince/private citizen amounting to billions, this leader has given its people hope that Cai Shen (God of Wealth) has got your back covered.
We aren't that greedy, sir, but in our crusade to eliminate the growing army of boring cars, please wish upon us a Gong Xi Fa Cai to the tune of RM400,000, a tidy amount that would get us on our way with either of these two highly desirable coupes (well, one has four doors). And if we get a good discount from the dealer, we promise to return the balance, okay?
Mercedes-Benz CLA45 AMG (RM396,888)
The introduction of AMG-powered 45-series compact cars a couple of years ago by Mercedes-Benz has been a masterstroke, it made the three-pointed star cool to a 'younger' set of affluent enthusiasts who would have shopped at Audi or BMW otherwise. Last year, Mercedes-Benz Malaysia sold close to 400 units of these very fast compact Mercs, in doing so, it carved out a 'bang-for-buck' performance niche that previously never existed. Clever.
For around the same money, one could go for reconditioned Porsches, maybe a used M3 or even a GT-R, or you could strut into a Mercedes-Benz showroom and drive home a proper AMG that comes with factory warranty. And because the CLA45, GLA45 and A45 all have four doors and habitable cabin space, securing consent from other halves does become that much simpler. After all, the First Lady wears the pants in Malaysia.

Explosive performance
Bereft of the garish Edition 1 stickers, flaps and wings, the CLA45 looks lean and mean in our tester's gray paint job with matte black 19-inch alloys. The swoopy roofline and tapered tail are the CLA45's visual standouts, but compressing a lavish, well fleshed out silhouette (of the CLS) within the confines of a compact footprint was always going to be a challenge, and it shows in the somewhat unusual proportions of the CLA. Make no mistake, the styling divides opinions, but not necessarily detrimental when you want new customers to take notice. If Mercedes-Benz had made a shrunken C-Class, I doubt we'll be paying much attention to it.
Like a well-drilled German national football team dispensing opponents with economical ease (well, at least the German teams of old), the CLA45 is a model of efficiency when laying down power from an AMG-made turbocharged four-cylinder that has an astonishing output of 355hp and 450Nm. On paper, on the road, the CLA45 is capable of blowing anything away.
You'd almost feel sorry for the tarmac each time the CLA45's throttle is buried, such is the level of all-wheel drive traction on offer. With the driver pinned against his/her shapely bucket seat, 100km/h arrives in a searing 4.6 seconds from standstill (that's as fast as the current-generation, naturally-aspirated 911 Carrera), accompanied by a cacophony of crackles and bangs from an AMG sports exhaust system with an explosive sense of humour.
The searing performance from the CLA45 will keep many of its well-heeled owners amused over time, as would the prodigious grip in corners and near absence of body roll. If the CLA45 was graded as a student, it would get a CGPA higher than 3.85, but purchases made at these lofty prices – where the subject matter is regarded as a source of entertainment – have to stir the soul, and this is where some might find the CLA45's brash performance and unyieldingly firm ride akin to a blunt tool, effective no doubt, but it does leave you wanting something with a bit more finesse.

Audi TTS (RM392,000)
We've already established that the third generation Audi TT is a hunk of a car, more so when adorned with edgier TTS elements such as those potent-looking 19-inch alloys, Hannibal Lecter-approved front grille, and bulked up bumpers and sills. That Audi has been able to retain the mojo of the original TT styling and carry it through to the third generation (with so many variants in between) is a triumph on its own. There's still nothing quite like the TT 18 years after it made its debut.
If looks could kill…
With 'only' 286hp/380Nm from a turbocharged 2.0-litre four-pot (along with Quattro all-wheel drive), the TTS's vitals aren't nearly as extravagant as the CLA45's, but since weight is a great leveller (it's close to 200kg lighter than the Mercedes), the smaller TTS is, for all intents and purposes, an equal to the CLA45 in performance (0-100km/h in 4.7 seconds, just 0.1 slower), with both cars being limited to a top speed of 250km/h.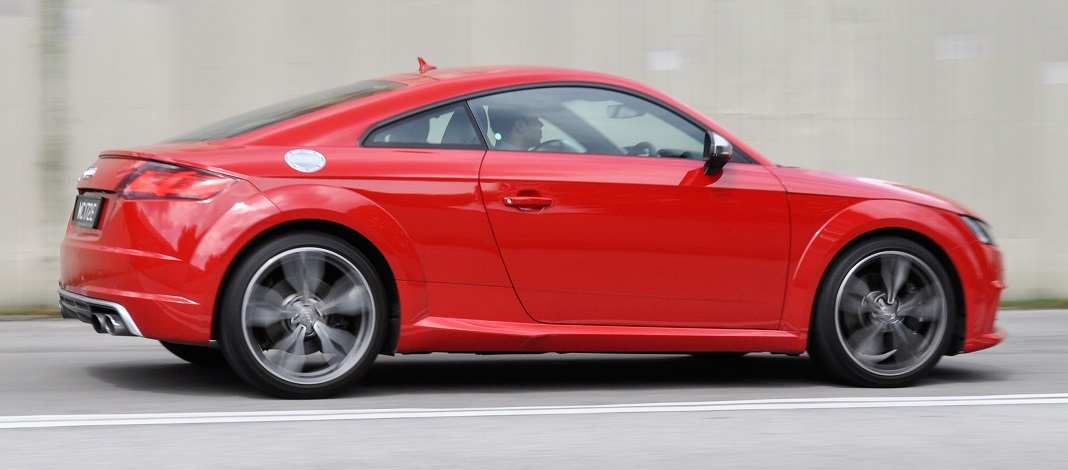 Putting statistical numbers aside, it's the TTS that inches ahead of the CLA45 on the subjective front, particularly in the way how the suspension is able to 'breathe' and react to bumps instead of trying to pound imperfect asphalt into submission, as is the case with the CLA45. Ride is still very firm in the Audi, mind you, but for a coupe with serious performance aspirations, it's a reasonable compromise.
Sharing is a good thing when a good thing is shared, no shame then for the TTS being the donee (yes, donations again!) of the Golf R powertrain. Like the CLA45's 4MATIC, Quattro all-wheel drive really does take care of any traction issues but by inheriting what is already a well-resolved drivetrain, the crispness which the TTS's 6-speed dual-clutch 'box dispenses with gear changes (particularly downshifts) makes the CLA45's 7-speed DCT appear laborious. There is however little to choose between the two for aural drama; the Merc thrums a fierce mechanical note, while the Audi plays a fruitier, more refined soundtrack, both amusing to listen to but V8s they are not.
Wishing upon a star, or a ring?
For a first attempt of its kind (the 'improved' facelift version is coming), the CLA45 is a really well thought-out product concept that plays on the winning elements of Mercedes-Benz; the sporting credentials of AMG, the design flair of the CLS and the omnipotent brand appeal of the three-point star. All that plus the best performance-to-devalued-ringgit ratio and it's easy to see why this junior AMG rocket is so sought after. Oh, don't forget its four-door convenience.
With two fewer doors and being the lighter, more compact car, the nimble TTS has physics on its side, no surprise then that it's also the shaper, sweeter drive next to the CLA45. When its top quality, minimalist interior is juxtaposed against the CLA's more conventional effort, the competition for your (free) money is pretty much done and dusted. This is before factoring in Audi's amazing Virtual Cockpit, so it deservedly receives our congratulatory Gong Xi in this fun contest. For tax-free Fa Cai, please check your account balances regularly.
---
Mercedes-Benz CLA45 AMG
Price: RM396,888 (w/o insurance)
Engine: 2.0L, 4-cyl, turbo petrol, AWD
Output: 355hp @ 6,000rpm, 450Nm @ 2,250rpm
Transmission: 7-sp dual-clutch
Performance: 0-100km/h in 4.6 seconds, top speed 250km/h
Wheels/tyres: 19in alloys, 235/35 R19
Safety: 7 airbags, ESC
Warranty: 2-year (unlimited mileage)
Audi TTS
Price: RM392,000 (w/o insurance)
Engine: 2.0L, 4-cyl, turbo petrol, AWD
Output: 286hp @ 5,300rpm, 380Nm @ 1,800rpm
Transmission: 6-sp dual-clutch
Performance: 0-100km/h in 4.7 seconds, top speed 250km/h
Wheels/tyres: 19in alloys, 245/35 R19
Safety: 6 airbags, ESC
Warranty: 4-year or 120,000km