The Nordschleife, or the North Loop of the Nurburgring circuit (which includes the adjacent Grand Prix track) is the holy ground for every self-respecting car enthusiast. The track dates back to the 1920s and has remained largely unchanged since. In its current form, Nordschleife measures 20.8km in length, with 73 corners snaking through the Eifel forest.
The North Loop has played host to many memorable races (actually still does today) including the 1976 German Grand Prix where Niki Lauda nearly lost his life in a fiery crash. It's also a place where car companies hone (and sometimes crash) their best cars. Such is the challenging nature of the track that Formula 1 legend Jackie Stewart christened it the 'Green Hell'.
One of our readers (who shall be known as Weng) recently fulfilled his dream of driving on the Nordschleife on a beautiful spring afternoon. We thought his happiness was well worth sharing, so we asked him some questions.
Where would you rank driving the Nordschleife in your top 10 bucket list?
Easy, it would stand among the top three. The other two being driving a Formula 1 car and hitching a ride in a fighter jet.
How many laps of the Nordschleife have you driven on PlayStation?
I would say at least a hundred laps, over the course of a year. The interest started after watching Michael Krumm take on the Green Hell in the Nissan GT-R NISMO in 2013.
How did you end up at Nurburgring?
It was a holiday I planned for myself which included a visit to Ferrari at Maranello, but the main course was always to drive the Nordschleife. I drove to the 'Ring from my hotel at Cologne, 85km away in a Opel Corsa rental. You'll need a car if you want to explore the surrounding area and check out the various track vantage points. The official Nurburgring website is useful, as is BridgeToGantry, an unofficial YouTube channel for Nurburgring fans.
I stopped by the famous Brunnchen corner (famously known as YouTube corner) after a bite at Bistro Cockpit that overlooks the Breidscheid and Ex-Muhle corners. This is also where the town of Adenau is located. You can also visit the Nurburg castle and the track visitor centre (on the grand prix circuit) which houses an indoor theme park called Ring Werks. There's a lot to do at Nurburgring even if you're not a petrol head. The scenery is calming and one could rent a mountain bike and explore the vast forest trails. But I was only here to drive.
Can you drive a rental car on the track?
During the Touristenfahrten (or tourists' drives or rides) session, which happens every weekday from 5:30pm to 7:30 pm, you can drive your own car as long as it's insured. However, rental car companies forbid usage of their cars on the 'Ring, which is classified as a 'de-restricted toll road'. So the option for me was to rent a specially-prepared car at Nurburgring. There are at least four garages or rental shops offering cars ranging from a Renault Twingo RS to a Porsche 911 GT3.
So what did you end up driving?
I picked a Suzuki Swift Sport with 6-speed manual transmission from Rent4Ring. It's a tuned hatch with semi-slick Toyo R888 or Yokohama Advan AD08 R tyres mounted on 16-inch alloys, suspended by fully-adjustable Ohlins shocks and coils. The Swift was also fitted with Endless competition brake pads. Its interior is stripped out, there's a pair of Recaro Pole Position racing buckets with OMP four-point harness, protected by a roll cage. Proper track day stuff.
How much did you pay the Swift Sport?
There are two packages from Rent4Ring; basic or all-inclusive. All-inclusive covers the cost of the car, fuel and lap, which is €179 (RM814) for the first lap and €70 for additional ones (note: one lap on the Nordschleife costs €29 or RM132). For first-timers, all-inclusive is what you'll want to minimise the distraction of parking, purchasing tickets (for the lap), refueling the car, so I chose that option. You can even specify the services of an instructor to ride shotgun for €150 (RM682) an hour. Otherwise, you're on your own.
How long does the track stay open?
The Touristenfahrten session lasts 120 minutes on weekdays, but on weekends, the 'Ring can stay open for as long as 12 hours. As I drove it on a Tuesday, I had two hours of playtime. Always check the official website for updated Touristenfahrten times as they are subject to changes due to scheduled events, weather fluctuations, etc.
How did the little Swift Sport cope on the circuit?
The car was an absolute joy to drive on the track, as you'd expect from a lightened three-door Swift Sport with sticky tyres. Grip levels were phenomenal, and if you overstepped the limits or run out of concentration (it's a 10-minute lap for the Swift piloted by a not-so-Swift driver), the Suzuki's Electronic Stability Control will intervene. Since I had no intention to be featured in any Nurburgring's 'fail compilation' videos, I left ESC on.
While 136hp from a naturally aspirated 1.6-litre engine isn't a lot on paper, the Suzuki pulled hard on climbs and long straights (it was hitting 180 km/h on the blast from Flugplatz to Schwedenkreuz). As a first-timer, having less power actually helped me to learn the track faster, particularly on how the 73 bends flow.
It was more about finding my own limits in those corners, rather than outright acceleration and top speed. And if you see faster cars coming up behind you, stick to the right side of the track (with indicators preferably) so that they can overtake on the left. German traffic rules apply even on the Touristenfahrten.
Did the Green Hell live up to its reputation?
Seeing it in person at the different vantage points is already mind-blowing. The elevation changes were dramatic (up to 1,000 feet) and track side videos and games do not give a true impression on how steep some parts of the track are.
Seeing how narrow some parts of the track are, butterflies did set in a little as I strapped myself behind the wheel. The changes in track elevation certainly made my ears pop, and numerous corners are effectively taken 'blind' in that you cannot see beyond the crests. And the famous Karussel corner is as bumpy and slow as all the on-board 'Ring videos depict.
So yes, Nordschleife is indeed the 'Green Hell' as Sir Jackie described it to be – challenging, scary at parts, but so fun when you string the corners together. At the same time, it's also the most beautiful 20km stretch of de-restricted one-way road in the world that demands maximum concentration and respect.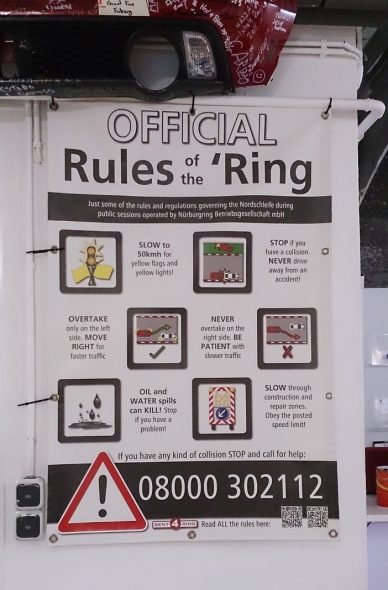 How did you manage to remember the sequence of 73 bends and corners?
Gran Turismo 6 helped, a lot! The video game prepares you well, mentally at least, and especially for the dangerous corners. Bridgetogantry posted a very informative video (above) of driving at the 'Ring during a Touristenfahrten for the first time. It is a must-watch to understand the dos and don'ts. Besides, there was also an in-depth briefing of the track by Rent4ring (provider of the Suzuki), so that helped a lot too.
So, 20 kilometers a lap, how many laps did you do? What is your lap time?
I targeted four laps. I was advised to take a short rest after two laps, but I didn't. True enough, I began to make more mistakes during the fourth lap; carrying a bit too much speed into Bergwerk and the electronics kicked in. It was a wakeup call telling me I was over-driving. My best timed lap was 10 mins 46 seconds. In the end, I completed four tours of the Nordschleife, clocking over 80km. I couldn't think of a better way to spend an hour of my life.