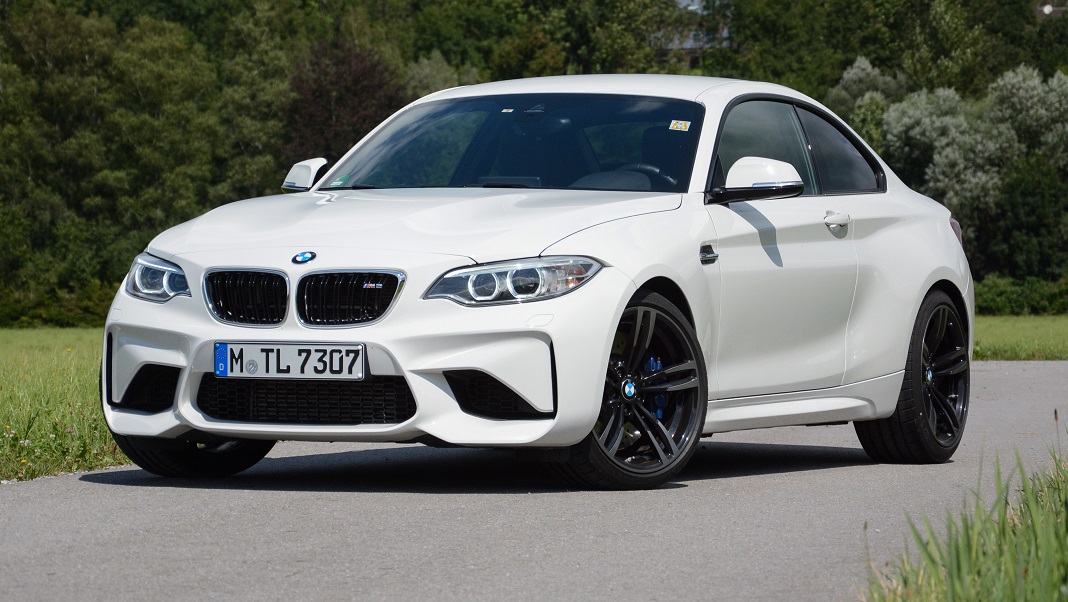 The one-upmanship of horsepower has gotten a bit absurd if you ask me. Well, that and oversized alloys. It's probably no coincidence that some BMW M cars (and SUVs) have over time grown more akin to muscle cars than the incisive road exponents which they once stood for. You can lay some blame on Affalterbach and their stonking AMG engines for triggering a different kind of arms race. And maybe it is true that we are living shallower lives these days.
This is the real deal
So it comes as no surprise that the BMW M2 is amply fast – 4.3 seconds to 100km/h kind of fast. A 370hp/465Nm (or 500Nm on over-boost) 3.0-litre inline six 'blown' by a twin-scroll turbo see to that. This isn't a new engine per se, but the N55 motor has been thoroughly fettled by the M division and incorporates key components from the newer S55 engine that powers the M3/M4. Still, it doesn't make the M2 the fastest of its kind (the Mercedes-AMG A45 is a tad more rapid), but 'fast' shouldn't be the M2's chief selling point, to say so would be a disservice to its makers.
Even though our seat time with the M2 was all-too-brief and limited to public roads only, the main takeaway was that instead of having more power, more grip and more everything, the M2 is doing more to connect with the driver behind the wheel. You can launch into a rant about BMW not giving the M2 quite enough bespoke content to justify the full M moniker, but in spirit and intent, this is the real deal.
The 2-Series reinvented
The decision to give the unheralded 2-Series coupe its own M variant is turning out to be an inspired one. The compact dimensions of the M2 are more reminiscent of the purposeful E46-generation M3 coupe – arguably the last of the 'raw' M car – than its direct predecessor, the brutish 1M. Somehow, the blistered fenders (to accommodate wider tracks), lowered stance and sprinkling of M aesthetics transform the persona of the 2-Series coupe entirely, with the M2 looking the part of a chiseled athlete with optimal body mass index. In white, it's dripping with sex appeal.
It is however a lot less visually stimulating inside. You won't find any bespoke M seats here and if not for the grey-faced M dials and stubby M-DCT gear knob giving the game away, you could be sitting in an accessorised garden variety 2-Series. There are no customary M buttons (for drive mode pre-sets) on the steering wheel either, nor an EDC button for damping control; the M4-derived suspension is passively sprung.
What you'd want to know is that 'Sport+' setting summons the M Dynamic Mode by default (or by tapping the DSC button once) and that allows for a degree of sideways action (for track days, please) with reduced intervention from electronic nannies. I'm told that the M2 is a natural born drifter given that the electronically-controlled slip differential of the M3/M4 is a standard fit, but since I have no intention to contribute fodder for 'Top 50 BMW Driver Fails' over YouTube, the M2 was driven mainly in 'Sport' mode.
Power is nothing without feels
Whether the M2 pays the 'right' homage to M cars of yore depends on your past experiences of such vehicles. The M3 of the E36 and E46 era wasn't about sheer horsepower but the mega V10 and V8 of the F10 M5 and E92 M3 tilted the balance in favour of that. Turbo-charging kicked in thereafter and we are now talking about the new G30-generation M5 having all-wheel-drive. Save the picket, sacrilege no longer applies to the BMW of today.
Having said that, I'm happy to report that the M2 doesn't fall into the prevailing stereotype. Yes, the reworked N55 inline-six has the same kind of elastic response of modern M engines, but its softer top end and less-than-stratospheric (for M standards) rev-cut at 7,000rpm point to a more pragmatic approach to engine development at M. What's important is that the available grunt is wonderfully accessible over the rev band and doesn't feel as though it's going to overcome the traction of the rear axle with every errant prod of the throttle.
In more ways than one, this single mode passive suspension is proof that when the calibration is spot-on, you'll only ever need one setting. Okay, perhaps an additional 'comfort' mode would've been nice for pottering on broken surfaces of PJ streets (it is firm of course) but the M2 is more than tolerable as a daily driver, and offers tenacious grip and the requisite compliance when carving up your favourite trunk road or highway on-ramp.
It helps to no end that the shadow cast by the M2 is equivalent to that of a hot hatch. Factor in a steering response that's ultra precise and perfectly weighted and you have yourself a nimble coupe that changes direction resolutely at the behest of the driver. In fact, the M2 makes it easy for anyone who fancies a bit of driving to revel in its breadth of capabilities, but it also has bags of talent in reserve to keep rear-wheel-drive purists engaged. And if you chose the 7-speed DCT with flappy paddles over the six-speed manual, we won't begrudge you either.
The curious case of Ms. Hadid
So one year after its global launch, BMW is still struggling to make enough M2s to meet demand. Maybe draping 21-year-old supermodel Gigi Hadid all over the baby M did work a treat at the beginning, but I'd like to think that all these patient M2 buyers are not as contrived as the campaign, and that they see past the titillation of horsepower and whatnot, opting instead for an immersive, meaningful relationship with their cars that harks back to a period when M cars were purer in concept, and ironically, well before Ms. Hadid was even born.
BMW M2 Coupe
Price: RM498,800 (w/o insurance)
Engine: 3.0-litre, turbocharged inline-6, RWD
Output: 370hp @ 6,500rpm, 465Nm @ 1,400rpm
Transmission: 7-sp dual-clutch transmission w/shift paddles
Performance: 0-100km/h in 4.3 seconds, top speed 250km/h
Fuel efficiency: 12.6 km/l (combined cycle)
Wheels/tyres: 19in alloys, 245/35 ZR19 (F) / 265/35 ZR19 (R)
Safety: 6-airbags, Electronic Stability Control
Warranty: 5-year unlimited incl. normal service; 2-year tyre warranty