Why is a hippopotamus large, grey and wrinkled? Because if it is small, white and round, it would be a white rabbit. Here's another question. Why is a sports car small, light and agile? Because if it is large, heavy and clumsy, it'd be a Sport Utility Vehicle. And yet car makers have been trying to convince us that SUVs can be sporty.
Enter the second-generation Audi Q7 – it's over 300kg lighter than before and is now available with a 2.0-litre four-cylinder engine. Would it still be a hippo?
Playing safer than Durex
In the land where Perodua Myvi and Axia dominate the road, the Audi Q7 stands out due to its sheer size. The Q7 is not particularly beautiful or interesting to look at. Tamatoa, the 'shiny' crab from Disney's animated movie Moana would prefer more 'bling' and probably settle for the jewelry-like Lexus RX.
"It is too boxy, even Volvos are curvy and sexy these days, but I love those futuristic lights," were some of the feedback I received. We can criticise all we want, but let's admit that Audi's Bauhaus design philosophy gets better with age. If the next Audi A8 is going to look anything like the futuristic Prologue concept – a design departure for the company in 15 years – exciting times may lie ahead.
More Lufthansa than Emirates
High up in front, you're greeted with an uplifting ambiance with bright white and red-lit cockpit buttons that look beautiful at night. The minimalist interior is swish and stays true to Volkswagen Group's form follows function theme. Competitors are offering interiors with more interesting material contrasts, the Q7 feels serious, dark and utilitarian next to them.
The centre screen rises out of the dashboard like a sci-fi movie prop that displays all the information about the car. The main rotary controller and touch pads are used to navigate a series of the menu. Audi's MMI system is responsive but cumbersome when making changes. Having some shortcut buttons would have been helpful.
A true multifaceted vehicle
The Q7 can be a chauffeured limousine during the week and a getaway vehicle by the weekend. It serves as an alternative to the boring cigar-shaped executive saloons. You stretch your legs and sit high up on the backseat looking at the world like an Audi A8 that has been left a tad too long on the party helium balloon pump. Two Asian-sized adults are able to travel in reasonable comfort back in the third row, and there's even room for a few shopping bags.
All five rear seats can be stowed when not in use, and you won't need the muscles of Captain America to do so. With a press of a button, the last row move electrically. Parents will be happy to hear that there are window blinds and all three spaces on the bench feature ISOFIX mounts for child seats fitment. The Q7's lofty seating position and unparalleled refinement ensure that the big Audi feels equally at home on the road.
Hippopotamus Superleggera!
Moving the Q7 with a 2.0-litre power plant may seem like getting a Boeing 777 into the air with two smaller engines from a 737. Like the new 787, the sub two-tonne Q7 is the lightest SUV in its class by a wide margin. Powering the Q7 2.0 is the turbocharged engine found in the Audi TT that develops 252bhp/370Nm of torque. By carrying fewer books in your backpack, you will use less energy when climbing the staircase. As a result, the Q7 feels alive and athletic.
Slot the gear into D and tap the throttle, you don't feel the weight in the Q7. The car wafts away, authoritatively and near-silently. Wind down the windows, you can hear a hint of the engine note. The last time I was in a car this eerie quiet was the Lexus LS460L, I would believe if one says the Q7 is powered by a V8.
The transmission is super-efficient and quick to find its way to eighth gear for obvious reasons. Yet the Q7 has an imperious way of covering ground quickly when needed – flap the downshift paddle on the steering wheel and you're away. Every single time I looked at the speedometer, the Q7 is travelling faster than I'd expected.
Less weight, more fun?
The Q7 underpinnings are shared with the Bentley Bentayga and the next Porsche Cayenne. You can just feel so much sophistication going on underneath, with different drive modes and ride height to suit. You might be sitting at an altitude, but you're connected at ground level. It's truly remarkable for a vehicle of this size.
Audi's Quattro all-wheel drive system is a confidence-builder in variable conditions. It is also worth mentioning that it does off-road by locking and transferring the power to the wheels that need it most. Despite the terrific stability and damping at speed, the air suspension gives a supple, quiet ride even on a bumpy, slow stuff. Close to a big saloon's, in fact, probably a match for the class leading Mercedes-Benz S-Class. Did I mention Bentayga?
Living with one
Because there's just so much mass on the Q7, the reality does come back to haunt you at times. It's obviously sized for the Trumps and the Sheikhs, and threading it around a town is somewhere between a challenge and an embarrassment. The Q7 could hardly fit a yellow parking box that is shrinking each year in Klang Valley. Narrow basement parking present a challenge too, though visibility for maneuvering isn't as bad as you'd think, thanks to the surround-view camera.
The Q7's natural habitat is on the highway. With 100 litres of petrol in its tank, I believe it is possible for the Q7 to travel 911km from Singapore to Hatyai on a single tank. I averaged 14.3km per litre (or 7-litre per 100km) when cruising from KL to Malacca, though you'd be lucky to get half of that in city traffic. After spending over 700km in the Q7, my average came to 8.3km per litre (or 12-litre per 100km) – not too shabby for something this huge.
Q7 2.0 or 3.0?
The Q7 2.0 is priced at RM524,900 while 3.0 V6 costs RM65,000 more. Both cars share similar equipment such as the adaptive air suspension, eight-airbags, MMI with navigation, powered third-row seats and tailgate. However, the Bose 19-speaker 3D sound system, the Audi virtual cockpit, rainbow ambient lighting and larger aluminum wheels are reserved for the 3.0 V6.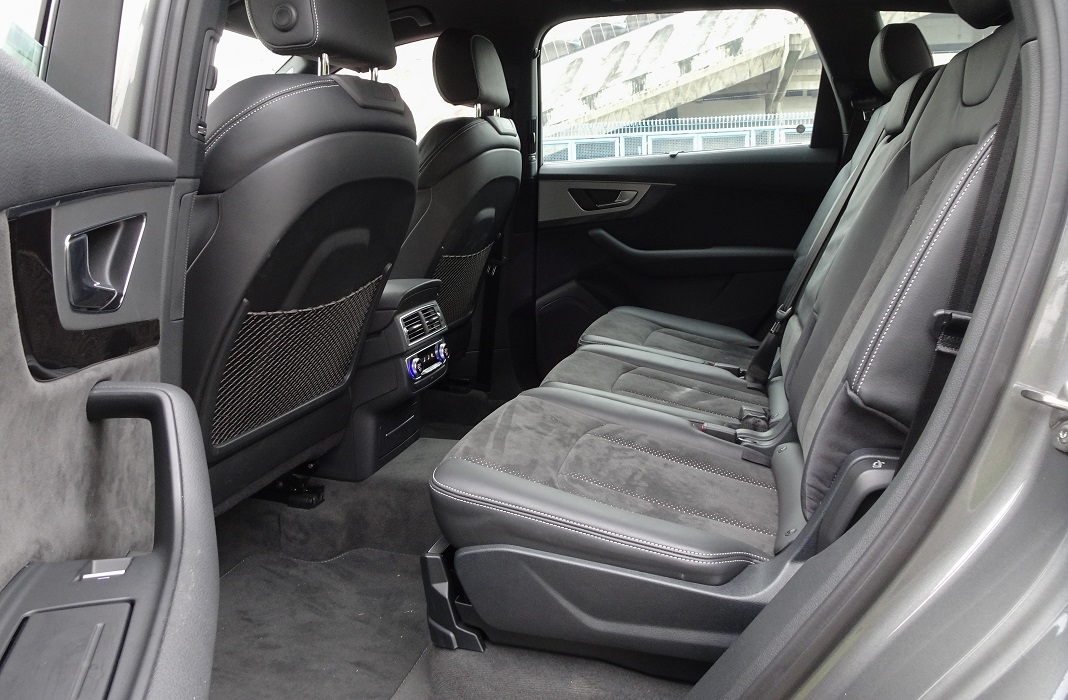 In terms of performance, the Q7 2.0 is more than adequate as it'll spend most of its time in the city, and it'll be more affordable to run and maintain as well, especially with its RM1,200 savings on yearly road tax renewals. So the brain wins here.
Is the new Q7 2.0 a hippopotamus?
Make that an inflated hippopotamus helium balloon.
(Thank you Audi Malaysia and Countersteer for the experience!)
Audi Q7 2.0 TFSI quattro
Price: RM524,900 (w/o insurance; add RM15,000 for S-Line package)
Engine: 1984cc turbocharged, inline-4, AWD
Output: 252hp@5000rpm, 370Nm@1600rpm
Transmission: 8-sp automatic w/ shift paddles
Performance: 0-100km/h in 7.1 seconds, top speed 233km/h
Wheels/tyres: 19in alloys, 255/55 R19
Safety: 8-airbags, Electronic Stability Control
Warranty: 4-year / 120,000km
https://www.youtube.com/watch?v=276OGQCpqtU