On paper, it makes perfect sense for Mercedes-Benz to introduce the AMG 43 range – a slew of high performance V6-powered models available in various body styles filling the space just below the fire-breathing V8 63 series, but above the manic four-cylinder 45 series. But can it be that simple?
The resurgence of the Mercedes-Benz brand didn't happen overnight or by chance, so you can bet that the 43 series wasn't borne out of someone's gut feel or a roll of the dice. It would have taken years of planning and reading of the market. If there's one thing Mercedes-Benz has delivered consistently over the past four to five years, it would have to be the right products at the right prices, at the right time. And this stems from identifying and knowing your customers better than your rivals.
In the new 43 series – and there are six different variants on offer here in Malaysia – Mercedes-Benz has carefully outlined its audience. Guido Brormann, the gentleman from Affalterbach responsible for growth markets (such as South East Asia) describes the typical 43 customer as someone who may not necessarily appreciate the historical significance of the 63 series but still seeks performance mixed with modern creature comforts of Mercedes-Benz passenger cars.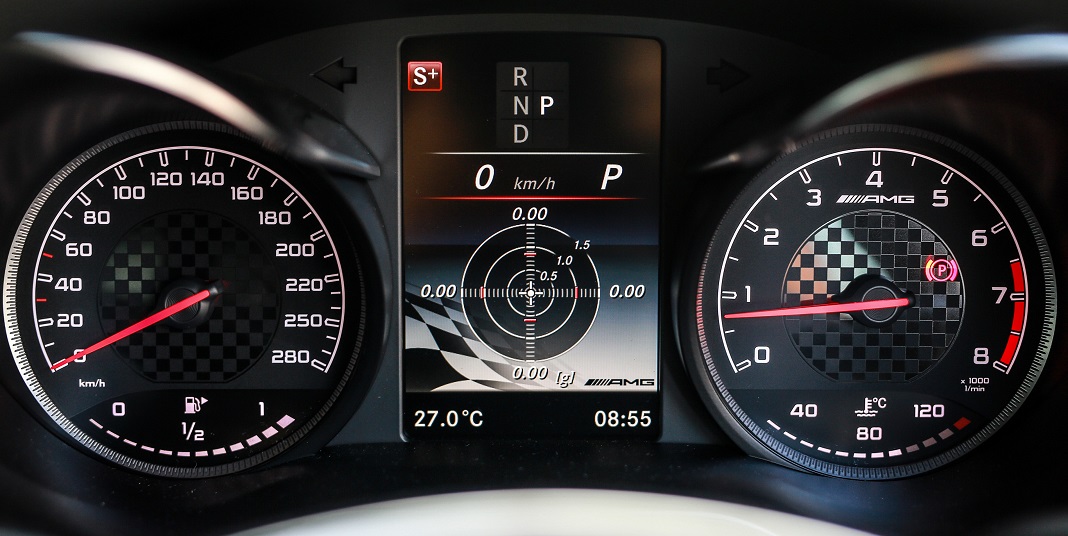 With power outputs starting from 367hp (up to 401hp) and 520Nm, the 43 AMG models have a leg up in the powerplant stakes against Audi's S and BMW's M Performance models (currently not sold here); every variant has 4MATIC all-wheel drive (along with a 9-speed auto) and is capable of hitting 100km/h from idle in less than five seconds, with a governed top speed of 250km/h.
Less can be more (in a C43 coupe)
Members of the media had a brief go at the 43 series recently at its launch at the Sepang circuit and most came away surprised at how characterful these 'mid-range' AMG models were through the challenging back half of the track. Of course, day-to-day liveability is subject to an on-road assessment to be conducted in due course, but on the evidence of the on-track performance, Mercedes-Benz may (yet again) have multiple winners on its hands.
Central to the appeal of the 43 series has to be the 3.0-litre twin-turbocharged V6 engine which has had its programming and charge pressure fettled by AMG. The tuneful biturbo V6 (tested in a C43 coupe) is so eager for revs that this author promptly brushed it against its rev limiter (at slightly over 6,000rpm) well before entry into turn 9. With 4MATIC all-wheel drive being standard on all variants (31:69 torque split, front to back), the subsequent drag up the steep turn 10 was clean and drama-free, followed by the sweeping bends of 11 through to 14 which revealed the C43 coupe's balance to be far more compliant (in body motion) and lighter in feel (through the steering) compared to the more track-focused, tarmac-pounding C63S coupe.

Inspired product planning
But instead of debating whether a C43 may be a better choice over a C63 for the wealthy owner, we are probably witnessing a new performance niche being unearthed in the luxury segment. The numbers may not contribute significantly to the grand total of cars Mercedes-Benz Malaysia sells in a year, but this could bring about healthy returns in terms of profits and most definitely in terms of brand image (sporty cars appeal to younger mindsets). In an age where car manufacturers juggle resources on a knife's edge, often with one eye on the horizon (e.g. PHEV, EV, autonomous technologies, etc.) and the other managing mid-to-near term customer expectations, Mercedes-Benz is showing how it can be done.
Mercedes-AMG C43 (Sedan)
Price: RM499,888
Output: 367hp/520Nm
0-100km/h: 4.7 seconds
Mercedes-AMG GLC43 (SUV)
Price: RM538,888
Output: 367hp/520Nm
0-100km/h: 4.9 seconds
Mercedes-AMG C43 (Coupe)
Price: RM548,888
Output: 367hp/520Nm
0-100km/h: 4.7 seconds
Mercedes-AMG SLC43 (Convertible)
Price: RM570,888
Output: 367hp/520Nm
0-100km/h: 4.7 seconds
Mercedes-AMG GLC43 (Coupe)
Price: RM580,888
Output: 367hp/520Nm
0-100km/h: 4.9 seconds
Mercedes-AMG E43 (Sedan)
Price: RM658,888
Output: 401hp/520Nm
0-100km/h: 4.6 seconds