Part 1 | Part 2
It's the crack of dawn and the morning rush hour traffic is already brewing. On any given day, I would snooze the alarm for a few minutes, maybe more since it's raining. Then again, we have a date with a former F1 driver who has 13 wins to his name.
David Coulthard, or DC as he's more affectionately known, is in Malaysia as the brand ambassador for Mercedes-Benz. Mercedes-Benz Malaysia is celebrating AMG's 50th anniversary and showing off the new AMG 43 series at Sepang. Coulthard's two-day stint would see him thrash these cars on the track and thereafter schmooze with customers during the after-party in KL.
DC's other obligations as a presenter and analyst for UK's Channel 4 F1 coverage meant that he has a 10am flight to catch to Barcelona (to be in time for the first practice session of the Spanish GP). It's slightly past 8.00am and a chauffeur-driven S400 Hybrid drops Coulthard off at the paddock club. He bore evidence of the scorching sun from the track action the day before, but is otherwise immaculately attired with nary a hair out of place – Buzz Lightyear in Armani comes to mind. I could pose questions that would please our host but that wouldn't be much fun. DC has the inside track on what's happening in Formula 1, so F1 will be the main course of this two-part interview.
Alonso in Indy 500, what do you make of it?
DC: The reality is Fernando has always spoken about this triple crown – Formula 1, Indy 500 and Le Mans, but when you're in Formula 1 you may talk about it but you don't focus on it. And he was loosely talking to Zak Brown (executive director of McLaren) about the opportunity and Zak made it happen. And it has all happened very, very quickly.
Alonso could go there and win it, that's the nature of the thing, you had Alexander Rossi winning as a rookie last year. He could go there and have an unfortunate incident because it's a very high speed race and much more dangerous than Formula 1. Then you have Jenson (Button) doing Monaco, he has not tested the car at all, so he's just turning up at Monaco and driving it. It doesn't really show a great deal of commitment to the cause, but then the McLaren Honda relationship hadn't worked so…I wish Alonso well, I hope he's safe, I hope he has a great race. (Alonso has since gone on to qualify fifth for the 101st running of the Indy 500 race and retired while running strong in the top 10 with less than 20 laps to go, his Honda engine gave up.)
Would you have done something like that, to miss Monaco?
DC: No, of course not, because I was always in the situation…apart from at the end of my career with Red Bull where it was a building process, I was always in a situation to be top three and win races. But then the relationship cannot get anymore broken than it is between McLaren and Honda right now.
Fernando is one of the top drivers of Formula 1, one of the highest paid but he's not finishing races because the car can't finish a race, so he might as well go and have a race somewhere. But even if he goes and wins it, I don't think that makes him more of a driver than he is. I think he's already one of the best drivers. It's a big-name race (Indy 500) but it's such a random race in many ways, you need so many things working for you….
Were you stunned when Nico decided to retire at the end of last season?
DC: I was very surprised but I wouldn't say stunned. My life doesn't revolve around Nico Rosberg's decisions. I have a family, I have other things going on, it's not like when Take That broke up, I didn't have tears in my eyes.
I respect Nico's decision, and a lot people were going on about on how fantastic that he's following his heart. But can I just give you a counter-position; which is he has a contract to race this year, Mercedes has obligations to sponsors such as Petronas which probably had booked Nico to do events. Him walking away from Formula 1 was not just a personal decision for him, it was an exercise in having to unwind contracts and relationships. Frankly speaking, Mercedes stumbled onto a good-news story because that's the quality of the company.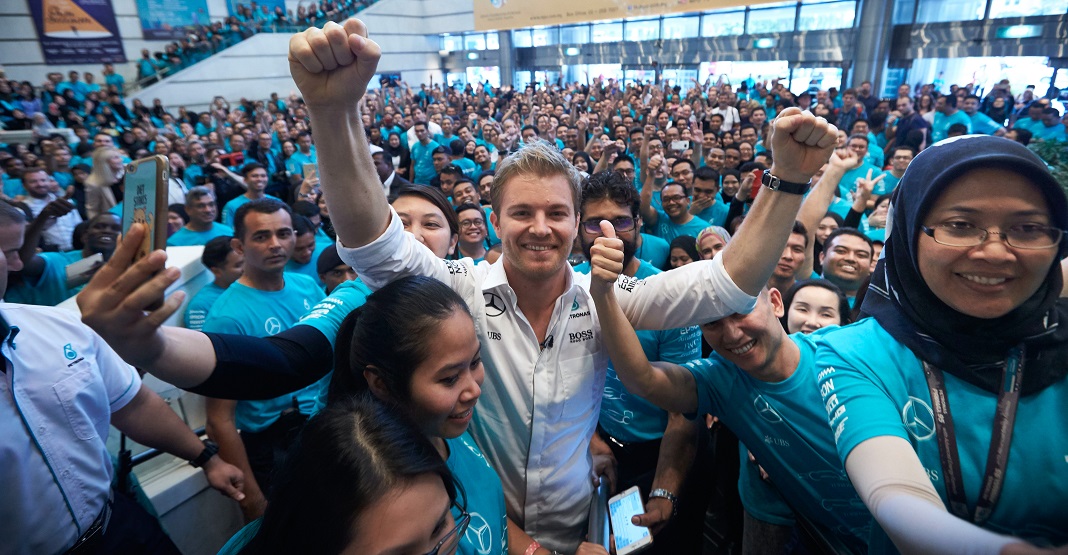 But if you were to break it down into what it was, if somebody you had employed to do a job, say to fix your house or mend your car, and when they are just about to start work but they go 'nah, I don't want to do it, I'm retired', then you'd go 'what the ….?!'. It was a difficult situation for Mercedes to handle, and they handled it professionally. The good news of course is that Valtteri (Bottas) gets signed and he goes and wins very early in his (Mercedes-AMG) career. Financially, it probably saved the grand prix team a lot of money because Nico would have been in all sorts of bonuses as the champion this year, while Valtteri is probably working for travel money and food.
Do you think Bottas is going to be as capable as your old teammate Mika Hakkinen?
DC: Who knows? He clearly a talented driver, he has won his first grand prix and he's mixing it up with Lewis (Hamilton). I think you have to judge at the end, I don't have a crystal ball and can't see into the future.
(Come back shortly for part 2 where DC talks about THAT incident with Michael Schumacher at Spa in 1998, his memories of racing on the Sepang circuit and why his bum modeling career didn't quite take off. Until then, we leave you with one of the most requested song at Karaoke lounges around the world.)


(Part 2: DC on Sepang, Spa 1998 and Schumacher)
This will be the last year Sepang hosts Formula 1…
DC: Yes, it's a shame isn't it, and that's why I insist on coming back here. I'll be back during the grand prix later this year (Sepang race weekend is 29th September to 1st October), I've already been in KL earlier this year. I like coming here.
What's your best memory of Sepang and how does this track rank in terms of challenge and fun?
DC: It's definitely one of the top tracks on the calendar, my favourite circuits are probably Spa (Belgium) and Monte Carlo (Monaco) but I'll put this in the top 10 of all the circuits I've raced on. I think of the 'new' tracks that Hermann Tilke did, this is one of the best; there's elevation change, there are long corners with high average speeds in a lot of places, which is a good thing. A racing car comes alive with speed, anything over 100mph (160km/h) and you'll generate downforce and performance. So yeah, I never won here but I've had some podiums.
The first time I was here with Mika Hakkinen, we did the first practice session and we had never been exposed to such humidity before. So we both sat in the debrief with the engineers, he's in his underpants on one side of the table, and I'm in my underpants, we both got our feet in a bucket of ice water and we both went, 'f***, it's so hot here!'.
I remembered Mika looked pale and red at the same time after the race, but you looked a bit healthier than him…
DC: I'd come here and spend a week training outdoors before the race. You know before we had cars with wooden plank on the floor (like today), we had a carbon fibre plank and we ran the car quite low, so the plank (scraping the ground) would get so hot in Sepang. And because I was a tall driver, the bottom of my seat sat on the chassis, and I started to get a blister on my bum because of the heat. I was in the car on the straights trying to lift myself up and thinking, 'I have to stop, I have to stop', the pain was literally like a hot poker against my skin, and then I'd come to the pit lane entry and I would go 'one more lap, one more lap', and I did that for the whole race.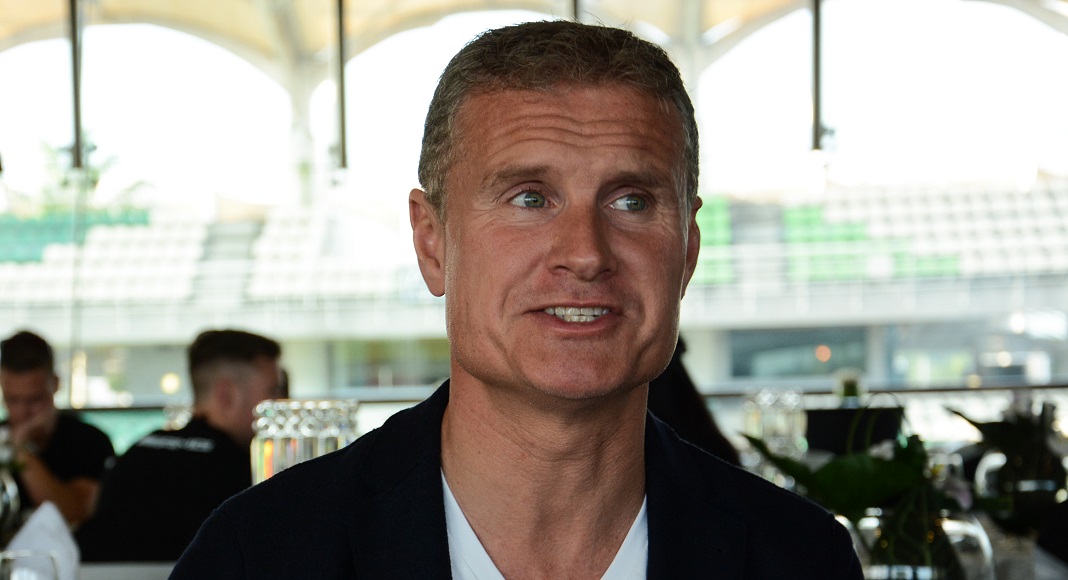 I had this big blister on my right buttock, and in the debrief I showed it to the team. I made Adrian Newey (then the chief designer of McLaren Mercedes) take a picture to put on the server so that the engineers who made the carbon fibre plank can find a solution. It was damaging my chances of being a bum model because I had a reddish mark on my right buttock.
So I took pain for my craft, but that was one of the things I love about Sepang, because mentally it was tough, and I believe Formula 1 racing like any elite sport should be, at the end of it, be physically and mentally tough because that's the only way of knowing you've given it everything. And anyone who exercises, trains or competes knows what it is to give a hundred percent.

(In what is still an incident that divides Formula 1 fans, the 1998 race at Spa was best remembered for the collision between Schumacher and Coulthard when the former was lapping DC in the rain. I had to ask, even if 19 years have passed.) 
Can I ask you about Spa 1998? I'm sure you've been asked this many times…
DC: OK, you've pushed me to my limits, I confess, I did it. It took until now for you to draw the real truth out of it (laughter all round).
No, it was a misunderstanding of course. I couldn't see where Michael was, and he couldn't see where I was because of the spray. I don't know if you follow Formula 1 for many years, remember Ayrton Senna in Adelaide (1989) running into the back of Nakajima (actually it was Martin Brundle) and Senna was one of the best, if not the best in the rain, and he couldn't see the car in front…Michael couldn't see me, I couldn't see him. But what was amazing, and all credit to Michael, was that he was almost as fast with three wheels on his Ferrari as he was with four! He came, as you remember, to my garage and I was still in my helmet and there was a lot of shouting…it was a good little bit of drama.
You did slow for him?
DC: Oh yeah, the team said, 'Michael's behind you' and they asked me to slow.
There was a report a couple of weeks later about you and Michael making peace
DC: Yes, we met at Bernie's motorhome in Monza and he sat down with the two of us, and we agreed to disagree as to who is to blame. So I said I would take my responsibility, but I said (to Michael), 'you have to take your responsibility as well,' but he replied 'I didn't do it'. I said, 'you crashed into the back of me, I didn't reverse into you.' Finally, I asked Michael, 'Surely you must be wrong sometimes?' And he went, 'Not that I can remember'.

(Watch DC interview Schumacher at the 2011 Canadian GP. The banter is pure gold, with a guest appearance by Vettel. All credits to BBC.)
Michael and I spent a lot of good times together, we had a lot of disagreements and of course he was a more complete driver than I was, but it was a lot of fun to race with him and Mika. It was also frustrating at times, Michael obviously bent the regulations to the absolute limits, it was the only chink in his otherwise perfect armour. After he retired, we'd hang out at some of the races and we had fun. I was as surprised as anyone when he came back to his spiritual home and race for Mercedes for a few years (2010 to 2012) but at that time Mercedes was still building up the team, and he wasn't as good as he was when he was younger. But that's part of the journey of sport, no matter how great a champion is, there is a certain point where your powers are diminished.
If you had the chance, what would you say to Michael today?
DC: It depends what the context would be, but I have a great deal of affection for Michael because he brought the best out of me as a driver, because I had to work harder than I ever imagined just to compete against him and Mika, they were both naturally more talented than I am. But some of my proudest moments were standing on the podium when I won, and having Michael and Mika beside me because if you've got those two guys in second and third, then it is irrespective of what anyone thinks of me as a driver. I didn't buy that podium position, I had to earn it.