Like it or not, large alloy wheels make cars look good, so thanks to the proliferation of ever larger wheels in new cars, upmarket 'Ultra High Performance' tyres have become a lucrative catch for tyre makers. Just like how Michelin has the Pilot Sport series, Continental with ContiSportContact and Pirelli with P Zero, Goodyear has the Eagle F1 range, and the new Asymmetric 3 is their best high performance tyre yet.
A new tyre launch is akin to attending a technical jargon jamboree, the Asymmetric 3 doesn't disappoint. It has Grip Booster Technology that (as its name suggests) enhances grip on the road through a compound that incorporates a newly developed adhesive resin. Then there's Active Braking Technology (which works in tandem with long shoulder tread blocks) that actually increases the size of the contact patch when braking to reduce stopping distances. Lastly, the Asymmetric 3 is also made of a reinforced lightweight construction incorporating the UHP Cool Cushion Layer technology that is more resistant to heat, deformation and wear under load, which in turn also improves steering precision and overall handling.
Goodyear was only too happy to point out that in a tyre test conducted by Germany's independent testing entities TUV and Dekra, the Goodyear Eagle F1 Asymmetric 3 outperformed three of its rivals – the Bridgestone Potenza S001, Continental Sport Contact 5 and Michelin Pilot Sport 3 – in areas such as braking, wet handling and particularly in mileage where the Asymmetric 3 was 31% better in tread wear performance, equivalent to around 11,500km worth of mileage, which is an impressive result.
In the absence of a control tyre or other competitor tyres for comparison purposes, it wasn't easy to gauge the efficacy of the Asymmetric 3 (fitted to a random selection of German cars) over the three exercises held during the Asymmetric 3's launch at the Sepang circuit – wet braking, dry slalom and lapping the south track (dry conditions) through turns 9 to 14, so kudos to my media counterparts who could for they have more 'sensitive' bottoms compared to mine.
But having said that, I would support the conjecture that the Asymmetric 3 is indeed an enduring performance tyre in that they stood up extremely well to hours of hard stops, overdriving on the slalom and punishing laps meted out continuously by members of the media and Goodyear dealers. The consistent yet reassuring nature of the Asymmetric 3's performance (as observed on the track) would definitely come in handy out on the streets where riding out potholes and surviving untimely kisses with kerbs are the order of the day. And don't forget how much all that extra mileage will save you as well.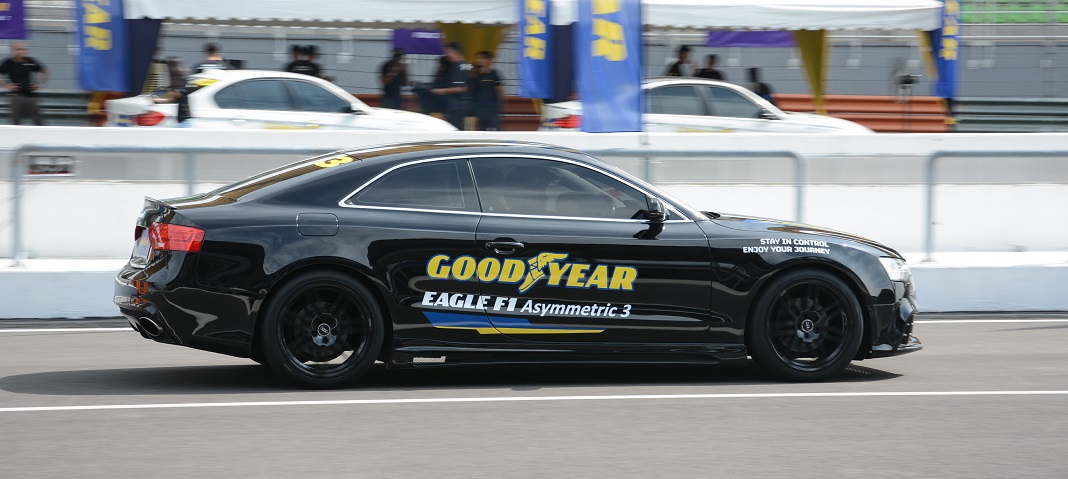 (The Goodyear Eagle F1 Asymmetric 3 is available in 34 sizes, ranging from 17-inch to 20-inch. Retail prices start from RM668 up to RM1,820.)