No matter how marketeers spin it, the reality is that a Formula 1 race car has little in relation to the cars you and I drive every day…that is until the Mercedes-AMG Project One showed up at the Frankfurt Motor Show recently. Okay, the fact that Mercedes will only make 275 of them (at €2.275 million each) means regulars folks (yes, you and I again) probably won't be dusting off lesser cars with electric boost at traffic light derbies or activating DRS on the NKVE anytime soon.
Yet the Project One is much more than just a chest-thumping flight of fantasy. As the automotive industry enters the age of electrification, Formula 1's turbo hybrid engine formula is more relevant than ever from a communication, if not engineering standpoint. Hence, it's only fitting that Mercedes-Benz celebrates the 50th anniversary of AMG, a probable fourth consecutive Formula 1 championship while getting everyone excited about hybrid electric technology.
Not merely inspired by Formula 1, this is Formula 1
Formula 1 has fought a long hard war against the escalation of costs in powertrain, but with the current set of engine regulations (largely unchanged since 2014) and allocation quotas – four per car to last the entire season or face grid penalties; shoehorning Hamilton's race-winning engine for road application became much more feasible simply because modern Formula 1 engines are now far more durable than before, even if Honda didn't receive the memo.
Many of the key components have been adapted from the race car to the Project One; the 1.6-litre turbocharged V6 (rated at 750hp), MGU-H and MGU-K motor generators that harvest and deploy electric boost (107hp for MGU-H, 160hp for MGU-K), pushrod type suspension system, a new eight-speed automatic forming part of a load-bearing chassis structure, carbon-fibre tub and the addition of two 160hp electric motors driving each of front wheel, powered by lithium-ion battery cells lifted from the F1 race cars.
Mercedes-AMG isn't giving the game away just yet, so much will depend on its eventual kerb weight but we know the Project One's combined system output will top 1,000hp and that the entire powertrain (including the transmission) weighs only 520kg. The high-strung V6 engine will require a rebuild every 50,000km for an unspecified sum, but whether this will deter any well-heeled collector is probably moot as all 275 units of the hypercar have been spoken for.
Faster than a Bugatti Chiron
Mercedes-AMG did share just enough information on the Project One to pour some cold water on the Bugatti Chiron's recent exploits by claiming a 0-200km/h time of less than six seconds, a benchmark which the Chiron does in 6.1 seconds. Since the Project One has all-wheel drive and four electric motors offering instant torque, it's likely to be considerably lighter than the two-tonne Bugatti and could conceivably pip the mighty Chiron from idle to 100km/h, 200km/h and even 300km/h. Maybe the Project One won't have the highest top speed (the Chiron has 1,500hp!), but it will probably be the fastest car in all conditions under 400km/h, road or track.
It revs to 11,000rpm
F1 fans bemoan the days when naturally-aspirated engines soared to 20,000rpm. Well, those days are over and even though the 1.6-litre V6 internal combustion engine can technically rev to 15,000rpm (subject to the current Formula 1 rules), or to around 13,000rpm as favoured by current teams on race trim, the Project One will do 'over 11,000rpm', which is 2,000 revolutions more than what a 911 GT3 RS is capable of. The dialling down of the rev limit isn't just for engine longevity but to accommodate regular petrol available at the pumps (F1 engines run a customised blend), it is ultimately a road legal car which has to comply with emission regulations just like any other homologated vehicle on the road.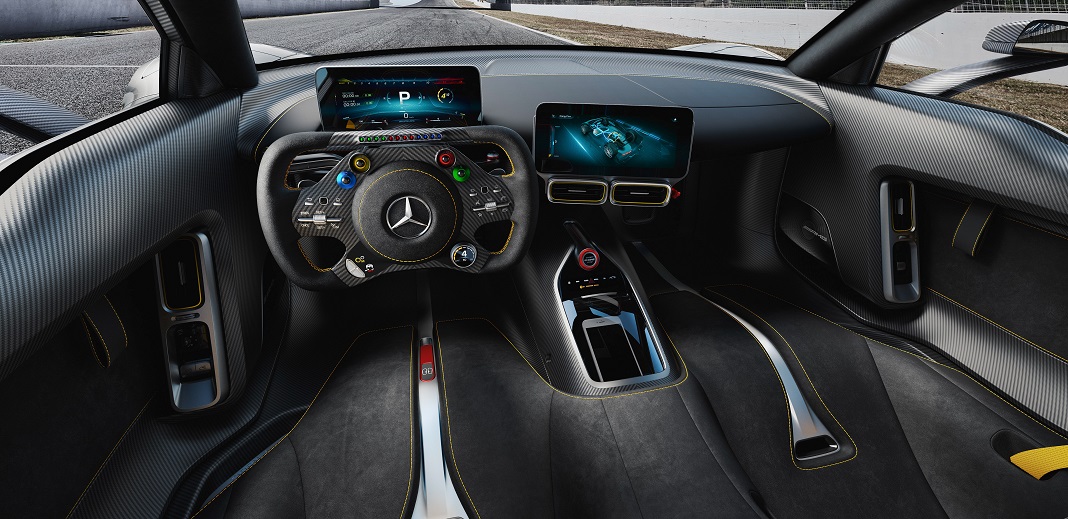 It has a thermal efficiency of over 40%
In simple terms, thermal efficiency is an indication of how capable an engine is in converting fuel energy (heat) into power. Regular passenger car engines return a thermal efficiency of around 25%, the Project One is capable of over 40%, which should make it the most efficient internal combustion engine ever to go into a production car. This feat is made possible by the presence of the MGU-H (Motor Generator Unit – Heat) – a 107hp motor commonly referred to as the electric turbocharger which eliminates lag at low speeds and then feeds on exhaust gases to generate electricity that can be stored and used later. The Project One will run a lap of Nurburgring using less fuel than a Mercedes-AMG A45 hatchback and be over a minute faster, claims Mercedes-AMG.
Finally, F1 meets road car
Formula 1 has always been surrounded by debates on how to move the sport forward. Too complex, too costly, too quiet and not exciting enough, yet critics struggle to propose a viable alternative. After all, it's only too easy to forget that Formula 1 has smartest brains from the auto industry working for its betterment.
The Project One will start production in 18 months' time and it'll no doubt rewrite performance benchmarks. However, the excitement shouldn't be confined to the stats it'll generate but the potential for the technologies to filter through to more road-going models, particularly in the areas of thermal efficiency and harvesting energy from the internal combustion engine. The Project One stands to win over not just electrification skeptics but could be the breakthrough Formula 1 always aspired to but never quite delivered – relevancy and a direct link to cars you and I drive.