"Gentlemen, let's get on the track before it rains…". The walkie talkie crackles to life with the voice of Bernd, the instructor in the lead Mercedes-AMG GT R. My balaclava and helmet aren't making it any easier to discern his instructions as we roll out of the pits. Bernd isn't mucking about as the rain clouds move in. Oh, his last name happens to Schneider, which means I'm attempting to follow a five-time DTM champion-cum-legend on a circuit which I've never turned a wheel before.
Some describe the Bilster Berg circuit as a mini Nordschleife. I'm having a hard time trying to remember which direction the many blind crests and dips spear into (officially, the 4.2km circuit has 19 corners and 44 undulations). Schneider is now picking up the pace on the back straight. Having gotten so used to Sepang track's wide expense and acres of run-off, Bilster Berg's narrow width and sudden elevation changes are shocks to my system. The irony is that both circuits were penned by famed F1 track designer Hermann Tilke, with two-time world rally champion Walter Röhrl also having a say in how Bilster Berg turned out. No wonder.
I've been lucky enough to have experienced Spain's Asgari circuit – a similar 'old school' private test track that's been described as 'challenging'. If Mercedes-AMG wanted to put the fear into motoring hacks, then they have chosen the scarier one. Not wanting to be the first journalist to 'fly' a RM1.7 million GT R into the adjacent forest, I leave the drive mode in 'Sport+' (one notch below 'Race') with exhaust and damping set to the loudest and stiffest. And I don't even think about messing with the Traction Control dial.
A beast can be beautiful
When Mercedes-Benz lifted the covers off the GT back in the 2014 Paris Motor Show, it became an instant hit. Clearly, the passage of time has done nothing to diminish the GT's elegant long-hood cab back form, this coupe is a gorgeous sight. All GT models (which has grown to six variants including two convertibles) now wear the Panamericana grille, which after the initial mental recoil of seeing Hannibal Lecter's mask being applied to a car, seemed to have added a degree of flamboyance to the GT. Matte fluorescent green probably isn't everyone's glass of Apfelschorle, but the GT R owns it. In fact, we haven't seen any hue that doesn't look good on the GT.
Green paint or not, this is Mercedes-AMG finessing motorsports pedigree into the GT for some serious track performance. The state of tune of the twin-turbo 4.0-litre V8 has risen to 585hp and 700Nm in GT R guise, not the highest for this engine (that would be the E63 S) but plenty for something that weighs around 1.6-tonne. The GT R also gets wider tracks, underbody active aerodynamics, manually adjustable rear wing, bi-directional active rear-wheel steer (by-wire type), adaptive and adjustable coil-over dampers, carbon-fibre roof, front fenders and torque tube (which houses the carbon-fibre propeller shaft), and carbon ceramic brakes (optional) to shave off kilos.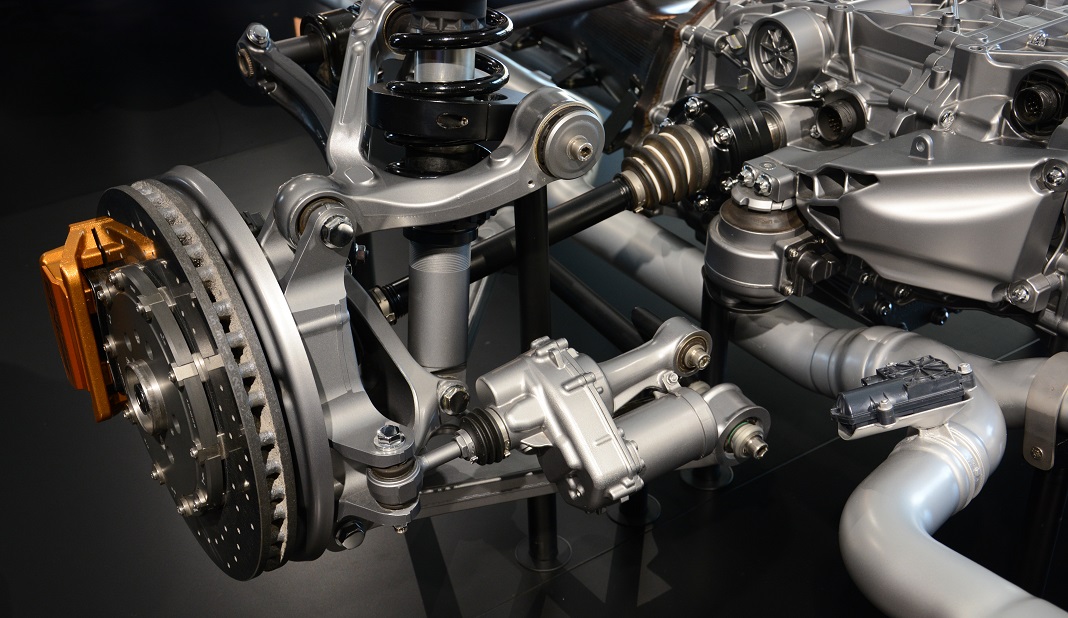 The (green) hell starts here
The start/finish straight of Bilster Berg isn't really a straight but a fast left-hander, Bernd stops talking on the walkie and pulls a few car lengths as we brake hard into the tight Turn 1. The track gains elevation from here on and the bends come thick and fast. You sit snug and low in the GT R, looking ahead at a bonnet that appears to stretch on forever. The first sensation that comes to mind is that the GT R has bags of grip, you are reminded of its girth but there's little body movement to speak of, no wiggles under acceleration, hardly any dip under braking, it's as tight-fisted and planted as one can possibly hope for as a track weapon. There is however a distinct sensation of weight coming through the meaty Alcantara-lined steering wheel.
Yes, the GT R will require you to work the forearms, it had me briefly wondering how an electric powered rack can feel so unfiltered and analogue, only to recall later on that it's one of the few cars out there that still retains hydraulic assistance. The lap is going swimmingly so far and I'm keeping sight of Bernd's car and the lines he's showing…until we arrive at the Turn 12 left-hander dubbed the 'Mausefalle' or 'Mousetrap' – the signature corner of Bilster Berg. From here, the track dives downhill at a gradient of 26 percent and then immediately work its way back up 20 percent before the next corner, a blind crest called 'Steilwand', or 'Steep face'. How do you say 'help' in German?
Dial 911?
Mercedes-Benz will look back at the decision not to replace the hand-made, gull-winged SLS and give themselves a pat for choosing to make a far more 'affordable' and conventional coupe instead. The comparison to the class benchmark, the Porsche 911 – be it in Turbo S or GT3 guise – is inevitable, but given that the GT is front mid-engine, the physics and behaviour will always be fundamentally different from that of a 911 which has its flat-six motor sitting behind the rear axle.
What I can say is that Mercedes-AMG has done more than enough to give the GT R its own character. The retro-done-good styling, the high quality bespoke interior and that raucous M178 'hot inside V' turbocharged V8. Imagine a sonic cacophony akin to cloth being violently ripped whenever you floor it, interjected by bursts of exhaust overrun that sounds like semi-automatic gunfire. The GT R may not be the fastest accelerating in its class, but when it comes to auditory delights, it is the undisputed drama queen.
Springing the mousetrap
I take a tight line through the 'Mousetrap' since cones are lined on the outer edge to curb any driver exuberance. The plunge down is both exhilarating and terrifying at the same time, I hold my breath and grimace, foolishly fearing that the GT R would somehow grind its belly but it never happens; the sudden compression poses no challenge and it's clear that the GT R offers more suspension travel than its low-slung body suggests.
There's barely an opportunity to exhale before the GT R is climbing uphill once again, I catch sight of Bernd's car up ahead, just as the tips of its carbon fibre rear wing disappear over the horizon. I'm crestfallen as I've now lost the visual reference guiding me around this unfamiliar track. I back right off as I can't recall the profile of the right-hander after the crest, better safe than sorry. I try to make up ground (more like Bernd is slowing to allow me to catch up) by 'cheating' the next few corners as much as I dare, the GT R obliges even if the sticky Michelin Pilot Sport Cup 2 tyres make themselves heard (and felt) over the kerbs.
It's quite the beast, really
Piloting AMG's most aggressive sports coupe around a roller coaster of a circuit is an exercise that demands confident inputs for it suffers no fools. I can see how the GT R's prodigious grip and buttoned-down balance gave it that astonishing 7:11 lap time on Nurburgring, but there's also an underlying inertness which makes it tricky sussing out its limits; there's always this underlying fear that the GT R would bite hard when its boundaries are overstepped. Despite having two more full laps with which to develop the trust between man and beast, I never quite managed to put together a clean lap. I needed a few more, but time is up.
I trundle out of the car shaken and stirred, the GT R is none the worse for wear, its V8 still purring. I'm not sure which was more fantastisch, the track or the car, both being challenges to savour. After bidding 'Auf Wiedersehen' to Herr Schneider, it finally dawned upon me that Mercedes-AMG probably intended the GT R to be this way – charismatic but a bit aloof, and that calling it the 'Beast of Green Hell' wasn't just a corny marketing ploy but reflects on AMG's ambition to take on its noisy Stuttgart neighbour. That the GT R poses questions of the driver only makes us want to drive it even more, to uncover the raw talents of this intriguing beast. And that's what having a proper sports car is all about.
Mercedes-AMG GT R
Price: RM1.7 million
Engine: 4.0-litre twin-turbo V8, RWD
Output: 585hp @ 6250rpm, 700Nm @ 1900rpm
Transmission: 7-sp dual-clutch automatic
Performance: 0-100km/h in 3.6s, top speed 318km/h
Fuel efficiency: 8.8km/l (combined cycle)
Wheels/tyres: 275/35 R19 (F); 325/30 R20 (R)
Safety: 6 airbags, Electronic Stability Control
Warranty: 4-year unlimited