When Mercedes-Benz reclaimed the premium crown from BMW in 2016, a swift return to the top seemed unlikely for the latter, yet it has hung on doggedly to the three-pointed star's coattails since. There's little to separate the two Germans so far in 2019, with BMW's model range renewal in full swing, we could even see a photo-finish come end of the year.
I can't help but think how BMW could've been a lot closer if it had gotten its styling act together (still not out of the woods), case in point being the X3 xDrive30i you see here. After two iterations that never really registered on the Richter scale of stylish designs, you'd expect BMW to start anew with the third-generation G01 model, given how Mercedes-Benz got it right with the GLC on their first try, with the likes of Volvo and Range Rover rolling out really attractive-looking SUVs.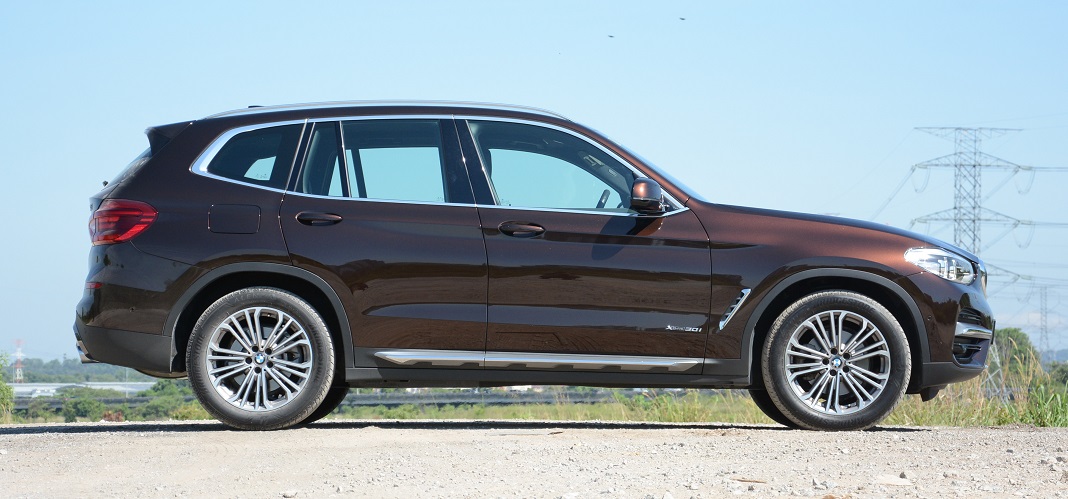 There is progress; the hindquarters of the X3 do look pretty sexy with its sculptured tail-lamps, the side profile hints of sportiness, particularly with the longish hood (engine still sits lengthwise) and those 19-inch alloys, but the all-important front end is somehow…stuck in time. Maybe it's missing some M-Sport visual tricks, maybe it's the test car's hue, or maybe BMW needs to try harder and not just fit larger kidney grilles on every new or facelift model.
CLAR to the rescue
There are redeeming factors, compelling ones too. In the X3, to borrow a phrase, it's mostly in the drive (predictable, yes) but special mention must first be given to the interior. For one, the ample space available for passengers isn't far off from an X5 a generation or two ago, and while the X3's cabin isn't as visually enticing as say a Volvo XC60's, it is a highly inviting and comfortable place to spend time in.
Much like how a G30 5-Series is so refined on the move, the X3 is unusually hushed and supremely pliant over bad surfaces, for something that rides on 19-inch wheels fitted with heavy run-flat tyres, this is an achievement, and it further builds on the cultured demeanour of X3. Which isn't to say that the X3 doesn't flatter the driver, it does in the context of a large-ish SUV that has been calibrated to handle and respond like something of a size smaller.
It is plain easy to drive well in an X3 – there isn't much in terms of steering feel in the traditional sense (let it go, purists) but the way the front end of the X3 reacts to minute inputs makes short work of positioning this 1.8-tonne SUV on a chosen piece of tarmac; the X3 being a prime example of well-judged passive damping working in tandem with a body that resists twisting forces well. You've got to love what the new CLAR platform – devised for RWD and AWD models with longitudinal engine layout – is spawning products with sound driving characteristics, and the X3 is a clear benefactor of that.
Beauty is skin deep, right?
Powered by what is now the ubiquitous B48 turbocharged 2.0-litre four-pot and 8-speed ZF auto combo, the X3 makes hay with 252hp and 350Nm and all-wheel drive traction to register a commendably quick 6.3 seconds for the 0-100km/h benchmark. Leave your right foot planted and the four-cylinder will start to feel a bit winded at the top end but never sacrifices any mechanical smoothness while doing so. Oh, and the X3 is surprisingly frugal too in town (10km/l is easily attainable), for an all-wheel drive SUV. Let's just say the X3 doesn't miss having a 3.0-litre inline-six.
What it does miss out are active safety nannies such as autonomous braking, blind spot and lane departure warning; functions that are expected in a premium offering. So there is work to be done on the X3 to prepare for its eventual mid-life makeover, not only on the aesthetics but also on the equipment level. BMW will be eager to fix this for the X3 is too accomplished to be living such a 'quiet' existence. Given the choice, most would choose beauty with brains, but for those who are able to look past the X3's muted styling, you can probably score yourselves a handsome deal on what is a thoroughly capable and enjoyable SUV.
BMW X3 xDrive30i
Price: RM313,800  Engine: 2.0-litre four-cylinder, turbocharged, AWD  Output: 252hp / 350Nm  Transmission: 8-speed automatic  Performance: 0-100km/h in 6.3 seconds; top speed 240km/h  Wheels/tyres: 245/45 R19  Safety: 6 airbags, Electronic Stability Control  Warranty: 5-year/unlimited mileage (with 5-year maintenance)