The director probably reminded Valtteri Bottas to smile during the shoot of the Petronas Pengerang refinery video, but the grin on the F1 driver's bearded face doesn't appear to be manufactured, maybe it's because the Finn is behind the wheel of the Mercedes-AMG E53.
You can look at the E53 and say it's missing two cylinders and one litre of displacement next to the bonkers E63; after all, there are no substitutes for the excesses and wallop of a big, twin-turbo V8, but in the E53, you'll still get the performance to match sport cars (0-100km/h in 4.5 seconds, the new Supra does 4.3 seconds) and the all-important day-to-day civility.
Just like how the best camera is always the one you have in your hands (likely a smartphone these days), the 'liveability' factor of a performance car cannot be understated; in this case, it means not having to grimace when potholes appear before you can react; you'll hear the dull thud of the alloys hitting the offending crevice but the impact doesn't jar as one would imagine a 1.9-tonne performance saloon wearing skinny 35-series 20-inch rubber to be.
Bottas must have noticed that road conditions in Malaysia can vary from brilliant to bad on a single stretch of tarmac. The wide operating window of the AMG Ride Control+ with Adjustable Damping System+ (in plain English, it's essentially adaptive air suspension with pre-set modes) is untroubled by the inconsistencies; firm when you need it to be in fast corners, pliant enough (just) when riding over sharp, gnarly bumps at slow speeds. More importantly, it provides the foundation for the E53 to lay down all 520Nm worth of torque. Oh, the 4MATIC+ all-wheel drive helps too, of course.
Some will miss the aurally pleasing V6 on the E43 but move on with the times we must. The new M256 3.0-litre inline-six with twin-scroll turbocharger isn't as melodious nor as tuneful as its predecessor, but it churns out more horses than the 43 (435hp vs 401hp), burns less fuel while boasting more tricks than a street magician.
The mild hybrid componentry includes a 48-volt electric compressor which spins to 70,000rpm to channel air to either the twin-scroll turbocharger or engine intake, then there's the integrated starter generator (ISG) supplementing the internal combustion engine with 22hp and 250Nm at low revs, said ISG manages idle start-stops exceedingly well, and drives the water pump and air-con compressor, thus eliminating belts and bearings which in turn reduces overall weight and engine size.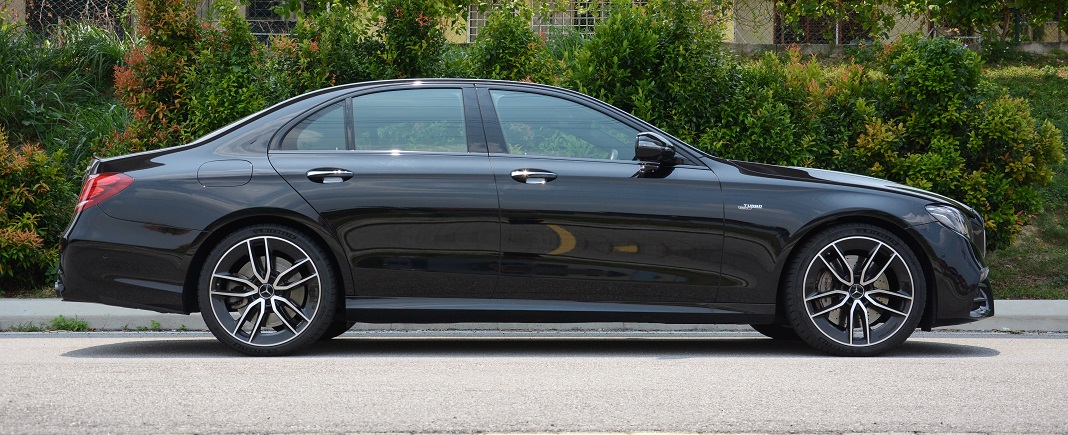 One could argue that the less boisterous character of the inline-six is more befitting of an E-Class, and it does jive with the narrative of an unassuming-looking saloon capable of blowing away pesky hot hatches and flashy sports cars on merits. And it does so with near-instant electrical boost from low revs and a crisp mid-range punch from the 3.0-litre inline-six, not to mention quick gear changes from the ever-improving 9-speed automatic.
And if anyone needed reminding that the E53 has another dimension to its personality, a couple of toggles on the drive mode selector is all it takes for the E53 to summon real muscle from its fangled powertrain, accompanied by some rude sonic flatulence from its four oval tailpipes on every upshift or downshift. Let's just say nothing beats AMG and their exhaust antics.
It's actually quite amusing to have this much pace from what is a stately four-door saloon, even more surprising that it can hack it in the corners with its taut body control and quick, if a bit artificial-feeling steering.
I'll stick my neck out and say that the E53 is the best representation of the W213 generation E-Class, better in so many ways than the E63 because you deploy its performance whenever and wherever you feel like it and still show up at a black-tie event looking dapper, that diamond pin grille complementing any star-studded cast who may step out from its premium, club-like cabin. Maybe all that glitter is indeed gold, as Bottas probably discovered.
Mercedes-AMG E53 4MATIC+
Price: RM740,888  Engine: 3.0-litre inline-six cyl., turbocharged, AWD  Output: 435hp / 520Nm  Transmission: 9-speed auto  Performance: 0-100km/h in 4.5 seconds; top speed 250km/h (limited)  Wheels/tyres: 245/35 R20 (F) | 275/30 R20 (R) Safety: 7 airbags, Electronic Stability Control  Warranty: 4-year/unlimited mileage