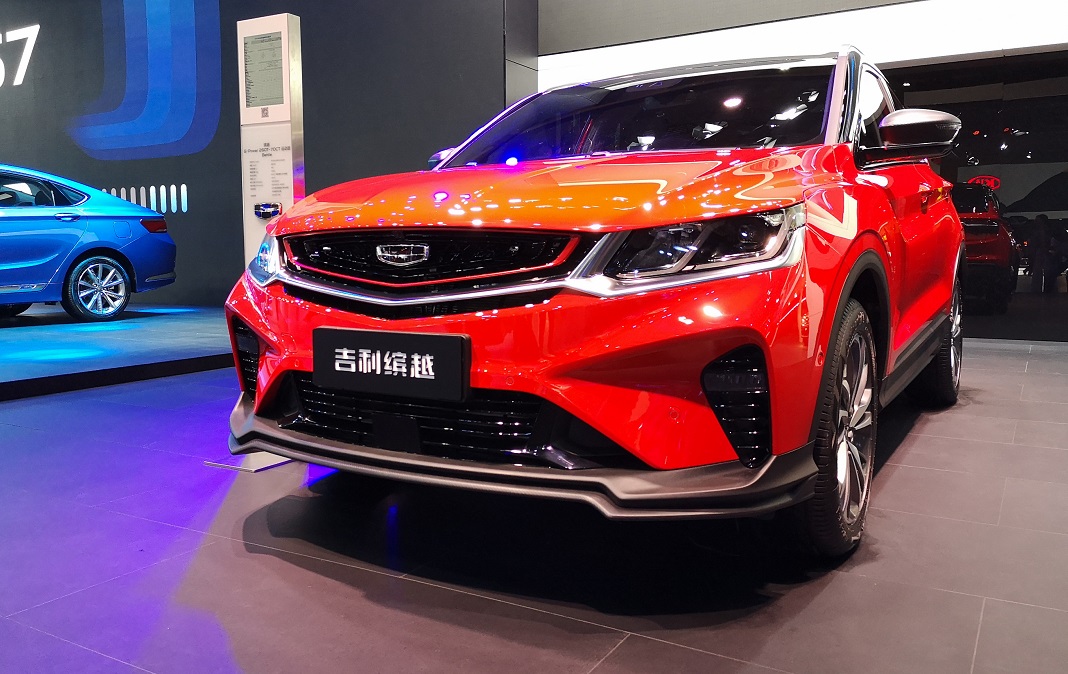 There is a tendency by commentators (from afar) to oversimplify the Chinese auto market as a self-contained beast with an insatiable appetite for new cars. While it is irrefutable that China is the largest consumer of new passenger cars (well over 20 million units per year), its market may not be that dissimilar from those in other economies.
Despite the presence of hundreds of local manufacturers, many of whom operate regionally and are unlikely to be sustainable in the long run, foreign car brands (in collaboration with local partners) dominate the sales charts, with usual suspects such as Volkswagen, Honda, Toyota and Nissan entrenched in the top five.
And then there's Geely, currently third overall with 1.163 million cars sold (year-to-date October), just a hair behind second place Honda (1.165 mil) and proverbial polesitter Volkswagen with 2.6 million. More notably, Geely is ahead of Toyota, Nissan, Buick and local rivals Baojun, Wuling, Changan and Haval in numbers, and to be standing toe-to-toe against the big boys of the world speaks volumes of this home-grown brand.
Roaming the halls at the recent Guangzhou international motor show, it's obvious that the palate of Chinese car buyers isn't that much different from other Asian markets; SUVs and crossovers are the rage, followed by the regular staple of sedans and multi-passenger vehicles. The vehicles on show reflect the rapid strides made by Chinese carmakers in recent years – the sheet metal is getting more interesting to look at, while the interior quality is fast approaching that of foreign makes, if not a match in many cases. When it comes to tech, namely digitalisation and connectivity, the Chinese brands are actually ahead of the curve.
Yes, mimicry still exists, but it is more prevalent between local brands in terms of styling cues and feature sets rather than outright copies of foreign makes and models; huge hexagonal grille cut-outs melded with slim headlamps seem to be the flavour of the month, along with large digital displays in the cabins. You do get a sense that many of these relatively young car brands are perhaps a step or two away from defining their own identities, they would need to if these products are to be competitive on the global stage. However, some are doing it better than others.
Geely Bin Yue: the crossover destined for international stardom? 
Unlike other Chinese brands which are more occupied with satisfying local demand, Geely has an expansive worldview and a far more global and visionary approach to its business, which isn't surprising given that brands such as Volvo (which includes Polestar), the London EV Company (formerly the London Taxi Company) and Lotus fall under its umbrella. There's also Lynk & Co. – a cool, new venture with Volvo that targets millennials with alternative means of vehicle ownership, a near 10% stake in Daimler (the owner of Mercedes-Benz) and of course, a substantial shareholding in Proton along with plans to make Malaysia a production hub for right-hand drive models in the region.
Getting up close to Geely's new compact SUV is a breath of fresh air in that there is nothing derivative about its styling. If anything, the Bin Yue (there is currently a contest to give it a global name) wouldn't be out of place wearing an emblem from the continent of Europe; it looks crisp, confident and sporty all at the same time. The design theme is called 'Racing through Time' and the grille aesthetics is dubbed 'Expanding Cosmos', I think the Bin Yue just looks attractive.
Built on the new BMA (B-segment Modular Architecture) platform, Geely has resisted from blurring the lines between the size of a B and C by keeping the wheelbase to a relatively modest 2600mm, but by achieving a 68.7% utilisation rate (of the wheelbase) for the cabin, the legroom at the back is generous and there's also the bonus of a virtually flat floor.
But what really sets it apart from its Chinese counterparts are the interior design and build quality; the Bin Yue looks and feel premium with its dual-tone, soft-touch dashboard and quality materials found on its dual-level centre console and major touch points. As expected, there is no lack of tech on offer as well; level 2 autonomous drive and the latest suite of active safety features are expected to be available.
And if that isn't impressive, then the jointly-developed Geely and Volvo powertrain – a 1.5-litre turbocharged three-cylinder mated to a 7-speed dual-clutch transmission – most certainly is, at least with its on-paper output of 177hp and 255Nm, good enough to propel the front-wheel driven Bin Yue from idle to 100km/h in 7.9 seconds. If rumours are to be believe, the Bin Yue will follow the X70 as Proton's second new model to be adapted from Geely's range, with a brand new three-row SUV thereafter. Excited? You should be.