Like a rock band churning out hits after hits, Mazda have hardly put a foot wrong in recent years. Even though not all have turned out to be (sales) chart-toppers, their efforts have found favour with customers seeking style and fans who love to cheer on the plucky underdogs from Hiroshima.
So, despite already offering multiple CX models covering a wide spectrum of the market, adding another option between the compact CX-3 and the mid-size CX-5 made perfect sense. After all, car buyers can't seem to get enough of these crossover types, right?
Unintended sibling rivalry
Well, it hasn't been so straightforward for the CX-30 in Malaysia given that its CBU price overlaps that of the locally assembled CX-5. It's not hard to imagine walking into a Mazda dealership with the CX-30 in mind only to emerge with a booking for the CX-5; the latter offers more engine options, more usable cabin space and doesn't look like it has aged a day.
It also doesn't help that all five CX models (CX-3, CX-30, CX-5, CX-8 and CX-9) bear very similar frontal expressions. Don't get me wrong, they are all attractive-looking SUVs, but it has become much harder to tell one CX from another at a glance, even if the CX-30's curvaceous rump is eye-catching. But unlike the Mazda 3 which the CX-30 shares a platform with, the crossover lacks the seductive appeal of the hatch which many happily pay a pretty penny for.
Case in point being the lower body and wheel arch cladding which presumably gives the CX-30 the visual credentials of an SUV – the execution is heavy-handed and quite un-Kodo-like, which is supposed to expound 'graceful, energetic lines' akin to the 'wind or the flow of water', to quote Mazda's own literature.
Why so compact?
It's evident that Mazda was conscious not to encroach upon the CX-5's territory with the CX-30; instead of inheriting the 3's wheelbase of 2725mm (which is actually slightly longer than the CX-5's at 2700mm), the distance between the front and rear axles of the CX-30 was kept at 2655mm.
Nothing much wrong with that, but Mazda isn't known for extracting the most interior space out of what's available, so rear legroom and headroom of the CX-30 are only mediocre for a C-segment offering, while the high waistline (try using Touch 'n Go at the toll) and narrow apertures of the side windows do no favours to the already snug-feeling cabin.
A lot has also been said about how Mazda is giving the premium brands a run for their money in terms of perceived quality, and the CX-30 is indeed a cut above other Japanese mainstream brands with its flowing interior design and use of quality materials. Mazda also ties all that together with a well thought-out infotainment system and tactile yet simple interface to complement the premium environment, it's just a shame there isn't more ambient lighting to show off how well sculptured the cabin looks at night.
Diesel for the win?
Save for pick-ups and commercial vehicles, diesel power has never really caught on for passenger cars in Malaysia, particularly in the absence of any regulatory compliance in terms of CO2 outputs. It is thus curious that local distributor Bermaz would offer a diesel option on the CX-30, not the excellent 2.2-litre found in the CX-5 but a smaller 1.8-litre four-cylinder rated at 114hp and 270Nm, mated to a six-speed auto driving the front wheels.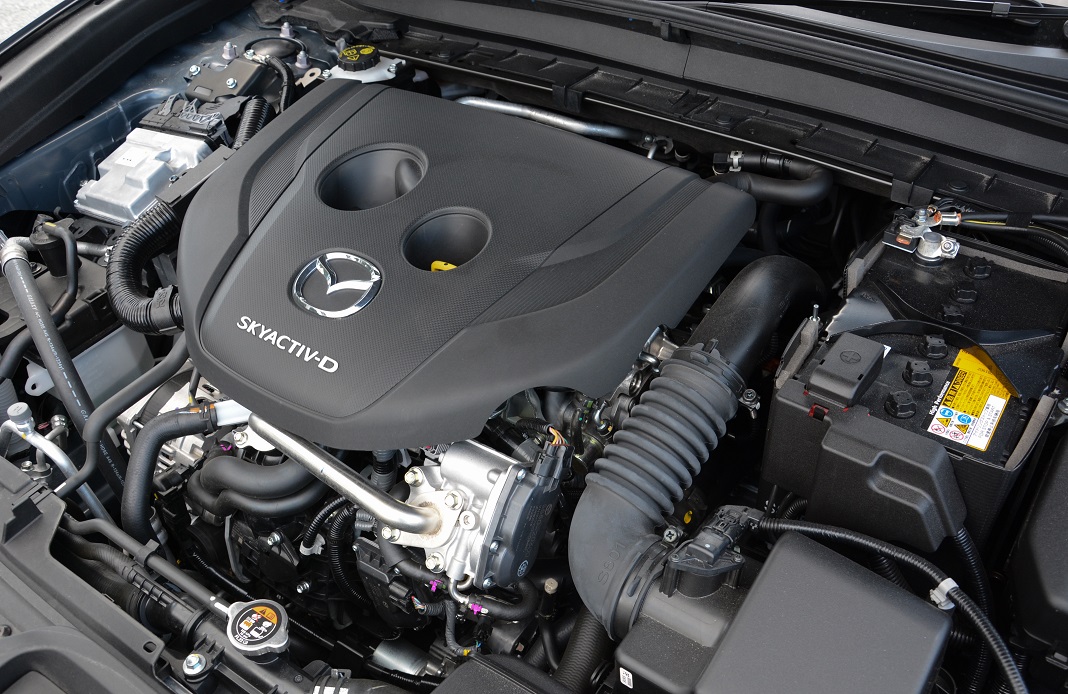 Impressive fuel efficiency – rated at 20.5km per litre, a number you can actually get close to in real world conditions – is probably the only reason why you'll want to pick this over the 162hp/213Nm 2.0-litre petrol option (which is already frugal); the 1.8-litre SkyActiv-D four-cylinder doesn't feel particularly elastic in delivery as you'd expect from a modern diesel, and there isn't much of a top end either, as its meagre horsepower output suggests. In its defence, the diesel is almost as refined as the petrol engine but that isn't a convincing enough reason to pick it over the latter.
Yes, the CX-30 subjectively pleases on the driving front, no surprises there. Mazda knows how to make the tasks of accelerating, turning and stopping an intuitive and fun exercise, and there isn't much grunt to trouble the well tied down suspension, which is probably a tad firmer than it needs to be for our roads, though never crashy nor jarring.
Time to up the game
But as a product from a new platform, it is not unreasonable to expect a greater degree of sophistication in terms of ride and overall refinement, the CX-30 doesn't feel like it has moved the game on from how things stand currently. If Mazda truly harbours the intention to take on the premium players so many pundits seem to be postulating, the rate of improvement can't afford to taper off.
Ultimately, the CX-30 is hampered by its awkward price positioning in Malaysia and ends up being overshadowed by its popular elder sibling, the CX-5, which is a more complete and arguably better-looking SUV. While the SkyActiv-D 1.8 High variant tested here comes complete with i-Activsense driving aids such as radar cruise control, for around RM170,000, you would want to own a CX-30 pretty badly to turn a blind eye to more affordable alternatives in a segment overflowing with variety and talent.
Likes: Sexy bum, sharp-looking interior, frugal diesel engine
Dislikes: Pricey, stingy cabin space, those fenders
Mazda CX-30 1.8D High
Price: RM167,673.60  Engine: 1.8-litre 4-cyl inline diesel, turbocharged, FWD  Output: 114hp / 270Nm  Transmission: 6-speed auto  Performance: 0-100km/h in 10.0 seconds (est.); top speed 183km/h  Wheels/tyres: 215/55 R18 (F & R) Safety: 7 airbags, Electronic Stability Control, i-Activesense  Warranty: 5-year/100,000km