Remember how Pepsi used to run the blind taste test decades ago? Apart from becoming a hot topic over meals, it had cola consumers around the world thinking long and hard about something as trivial as their choice of a fizzy, sugar-laced beverage. Now, if test drives could be conducted blind (without risking lives), I'd bet that Ford would give it a go with the Mondeo. Here's why.
Ford has had a knack for producing passenger cars that are simply nice to drive, sadly, it's an attribute that's underappreciated in these parts of the world where mainstream customers covet Japanese values, while premium patrons crave German luxury, with the Mondeo being stuck between a rock and a hard place. A shame really because this fifth-generation effort from Ford has all the goods to trump the best oriental D-sedans and making the German executive class appear abjectly overpriced.
It's a looker this time                        
The Aston Martin-esque hexagonal grille polarises opinions, and while its application is contentious on narrower bodies such as the Fiesta's, it's exactly the kind of ostentatious statement a flagship sedan like the Mondeo needs to make. That grille, along with those slinky, Mustang-inspired adaptive LED headlamps, form a striking frontal presence that's a million miles more memorable over the tame effort of the last generation car. Less outstanding are the side and rear views which could have done with some 18-inch alloys to accompany the chunky body, but there are no major visual sins in what is otherwise a very handsome four-door saloon.
If the exterior of the Mondeo is a qualified success, then its interior is a clear victory. Finally, much needed attention has been put into addressing the issue of perceived quality, and it's palpable on all its touch points; the leather is plush, the seats supportive (and really comfortable), the inlays on the dash and door cards look and feel premium, and while the level of technology on offer may overwhelm at first, the information is presented attractively and tastefully. The mix of analogue bezels (which harks of an Omega timepiece) along with nicely drawn digital graphics and tight fonts on the meter cluster exudes sophistication.
Sophistication on the move             
Some butts are more sensitive than others, and it's difficult to articulate the experience of being in a moving car, but anyone can sense when ride and handling is done right. The Mondeo is one of those rare breed of cars that's able to cushion road imperfections, filter them and then communicate what's essential to occupants. It's the same with the steering, throttle and brakes, which crave interaction from the driver and rewards with subtle layers of feedback.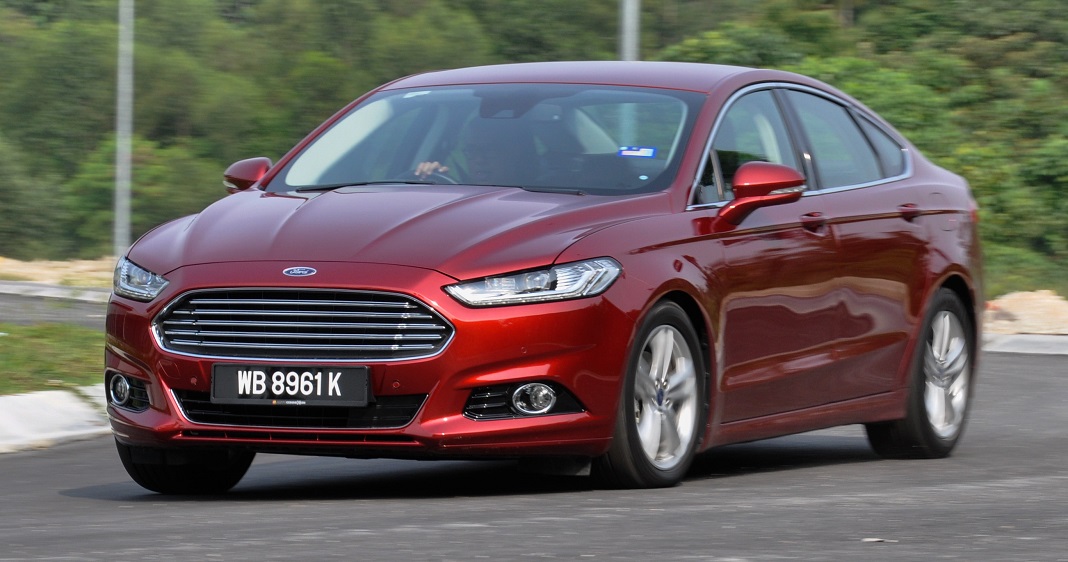 The rich subjective feel complements the responsive performance of the Mondeo, powered in a hushed manner by its smooth-revving 240hp/345Nm 2.0L EcoBoost turbocharged four-cylinder. This time however, torque is transmitted to its front wheels via a conventional torque-converter six-speed automatic, a more refined option compared to the finicky operation of the old dual-clutch 'box, which we believe is better suited to a premium saloon and its intended audience.
There's no reason to miss the DCT because the reaction from the powertrain is urgent with the Mondeo eager to spin its front wheels given the full beans. Maybe it's Ford's way of injecting fun, but from standstill or in gear, as its 0-100km/h time of 7.9 seconds and 240km/h top speed attest, the Mondeo isn't lacking in speed.
So who's going to buy one?
One can only imagine if the Mondeo's bonnet was affixed with a segmented blue-white roundel instead of an oval, you'll never hear the end of its achievements. But brand image matters in the world we live in today, particularly with premium car purchases. It doesn't help that at RM198,000 (without insurance), the Mondeo can't really pitch its tent in the D-segment volume zone of between RM150,000 to RM175,000, even if the technological content of the car (e.g. Adaptive Cruise Control and Lane Keeping Assistance are standard) justifies the asking price.
And as much as one would like to think that an individual shopping for a German entry product might place the Ford Mondeo in the same basket of consideration, the probability of that happening is low, no matter how wonderful the Mondeo drives, or how good it looks. And if that's not enough, the Germans are dipping ever lower in their bid to find new converts, which leaves the Mondeo appealing to a narrower band of brand agnostic, thinking buyers who'd pick a sweeter drive over a sexier badge. If only Pepsi's blind test applies here.
---
Ford Mondeo 2.0L EcoBoost
Price: RM198,000 (w/o insurance)
Engine: 2.0-litre, four-cyl, turbo petrol, FWD
Output: 240hp @ 5,600rpm, 340Nm @ 2,300-4,900rpm
Transmission: 6-sp auto w/steering paddles
Performance: 0-100km/h in 7.9 seconds, top speed 240km/h
Fuel efficiency: 12.5 km/l (EC combined cycle)
Wheels/tyres: 17in alloys, 235/50 R17
Safety: 7-airbags, Electronic Stability Control
Warranty: 3-year or 100,000km
---
Ford launches its biggest showroom
As part of Ford's and Sime Darby Auto Connexion's two-year RM140 million network expansion plan, the new 99,400 sq. ft. SDAC PJ2 showroom and service centre is Ford's most modern and largest facility yet. Located along the Federal Highway and opposite the current SDAC PJ dealership, SDAC PJ2 is the 48th showroom within its nationwide network.