It's funny how technology never quite managed to replace the business card, yes, that little piece of art card paper with your name printed on it. I suppose one could mention the Mercedes-Benz S-Class in the same breath – irreplaceable ever since the limousine was coined, and firmly established as the de facto business card on wheels.
Of course, the success of the S-Class has a lot to do with the heritage and stature of the Mercedes brand – arriving in an S-Class means you've done well for yourself, at least in the monetary sense, but to be on top for so long, unchallenged save for the occasional foray by rival BMW, is a rare thing in the modern era. After spending a couple of days with the S400 Hybrid, now in its fourth year of service in Malaysia, I'm able to comprehend why.
Some cars are in their last vestiges of relevance when they turn four. The W222-generation S-Class is four years old, yet you can't really say the design has aged much. Maybe its competitors hadn't done enough, or maybe elegance and class really come to the fore with age, whichever the case, the S-Class looks every bit as crisp and dignified as the day it debuted back in 2013. Even with more than 3,600 units of the S400 Hybrid circulating Malaysian roads since its introduction in 2014, easily a record for the number of luxury limos sold in this country, I've yet to grown weary chancing upon one.
Serving its A-game
If I am to visualise the ideal tennis player (sorry, I watch men's tennis mostly), he would have the talent of Federer, the balance of Djokovic, and of course the sheer grit of Nadal. In many ways, this is what competitors face when they square up against the S-Class' formidable all-round game. Yes, the newer BMW 7-Series (the 740Le in particular) is subjectively more pleasing behind the wheel and boasts tech amenities that tickle reviewers, but these attributes are either transient and/or not necessarily what a limousine customer place a premium on.
Whether it's ascribing the S-Class' cossetting 'business class' seats at the back or its ultra-supple ride, the Mercedes limo still reigns supreme when it comes to comfort. The sense of isolation and quality within the cabin is palpable when it gets up to triple-digit speeds while running over crocked road surfaces, all the more impressive when you consider that the S400 Hybrid rolls on 20-inch alloys, such is the adaptive air suspension's mastery over the elements. The complex workings of the mild hybrid system is equally well masked, and it has the bonus of a V6 motor adding a sheen of refinement to an already serene ambiance. We haven't test ridden a magic carpet before, but if it feels like this, then Aladdin would have travelled well.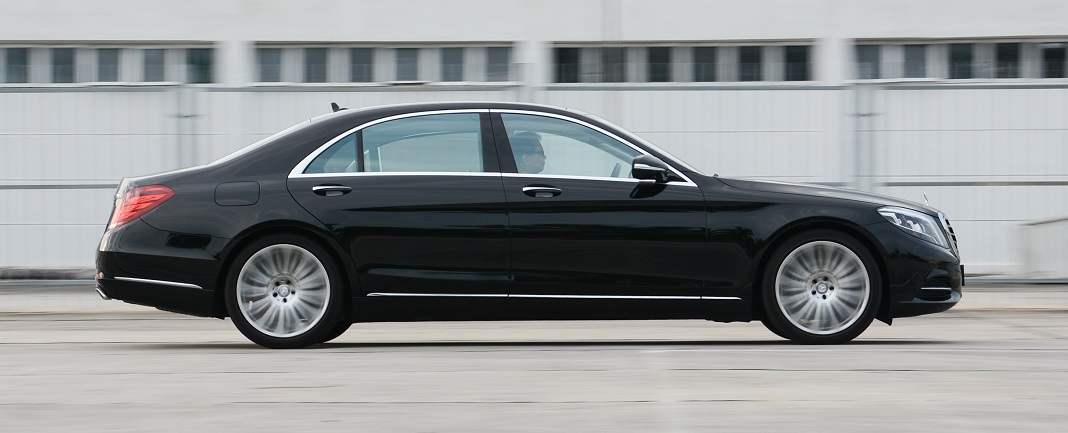 Of course, there will be days when the chauffeur calls in sick, but driving the S400 Hybrid, a limo that measures more than five metres long, isn't a chore by any stretch of the imagination. But instead of trying to engage the driver, the S-Class is about making things easy behind the wheel, with steering and primary controls are light and tactile in response. Don't let its supple ride fool you though, the S-Class will gamely resist roll in corners far more than its near two-tonne kerb weight suggests. If you happen to ply your trade as an Uber Black chauffeur in an S-Class, there won't be an easier limo to live with.
Business as usual
Having never driven the current generation S-Class over an extended period until recently, I was surprised to learn that the W222-generation S400 Hybrid is far from being eclipsed by its arch rival on substance, even if it has reached mid life status. Then again, maybe it isn't all that surprising as Mercedes-Benz always seems to bring its A-game when it comes to the Sonderklasse. As it stands, it's business as usual at the top.
Mercedes-Benz S400L Hybrid
Price: RM598,800 (w/o insurance)
Engine: 3.5-litre, V6, RWD
Output: 306hp @ 6,500rpm, 370Nm @ 3,500rpm
Electric output: 27hp, 250Nm
Transmission: 7-sp auto w/shift paddles
Performance: 0-100km/h in 6.8 seconds, top speed 250km/h (limited)
Fuel efficiency: 6.3L/100km (NEDC combined cycle)
Wheels/tyres: 20in alloys, 245/40 R20 (F) / 275/35 R20 (R)
Safety: 10 airbags, Electronic Stability Control
Warranty: 4-year unlimited (vehicle); 6-year/100K km for high voltage battery