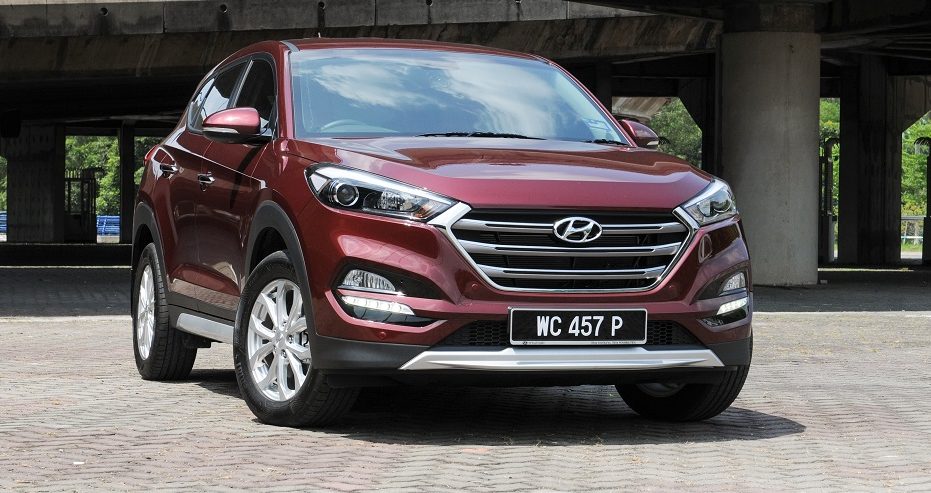 Despite being one of the Top-5 car companies in the world (in terms of sales), Hyundai always seems to be fighting an uphill battle here in Malaysia. Their cars are as modern as any Japanese or European rival and, to these eyes at least, are getting more attractive with each new generation launched but we've been slow to adopt them leading to poor residual values which further depresses sales.
Still, set all prejudices aside and you'll see all the great bits that make Hyundai such a popular brand in other countries. The all-new third generation Tucson (codenamed TL) is a great example of this and here are seven reasons why you should take a closer look at it if you're in the market for mid-sized SUV
1) It's a great looking car
Beauty may be in the eye of the beholder but few will argue if you think the Hyundai Tucson is a handsome design. With a blunt front end sporting a huge six-point grille, sculpted body panels and incorporating Hyundai's new 'Fluidic Sculpture 2.0', it's a dynamic looking SUV; imparting a sense of coiled energy and surface tension even when viewed in the confines of a showroom. I've always thought a good test of car design is to cover up all identifying badges and ask someone if they would still buy it based on looks alone. I tried it on several people and the Hyundai passed with flying colours.
It wasn't always so though. The first generation Tucson was developed together with the second generation Kia Sportage, and they were nearly identical except for a few minor styling tweaks. The next one was substantially different as it incorporated the first attempts at Fluidic Sculpture thus giving it a very distinctive look but perhaps it was a bit too revolutionary at the time. Hyundai seems to have hit the sweet-spot with this one, which could see it finally have a chance of matching its Japanese rivals in the market segment
2) It measures up to its rivals
With a 2670mm wheelbase, the Hyundai Tucson trails the Nissan X-Trail by a mere 35mm despite the latter being a seven-seater. More importantly, it has 50mm more between its axles than the Honda CR-V and at 1850mm is the widest car in the class, which when combined with the relatively low 1655mm height gives it a squat and muscular stance. Granted, with 488-litres of boot space, it is behind rivals such as the CR-V, X-Trail and Mazda CX-5 by up to 100 litres, but then the ability to stuff one extra trolley bag in a boot won't be too high up most priority lists.
3) You can drive it sensibly or spiritedly
Driving fun and mid-size SUV don't really go hand-in-hand. Most are used to ferry the kids around with the occasional long-distance schlep thrown in so comfort and smoothness are the main dynamic goals. The Tucson will play soccer mom and highway cruiser with equal aplomb but if you're in the mood for some spirited pedalling, it'll do that too.
Most of the credit for this has to go to the responsive 2.0-litre engine and slick six-speed auto. Despite Hyundai equipping the car with a 153hp MPi motor (instead of the 165hp GDi engine it uses overseas) the engine is responsive and refined, building to its 192Nm peak torque smoothly without ever getting shouty.
Throttle response is direct with little driveline slack and if you want it to be even sharper, select Sport mode via the Drive Select button. Doing so also alters the shift pattern for the gearbox making it kick down more readily and hold on to gears longer but for everyday driving, the Standard and Eco modes (which saves fuel but blunts performance) would be adequate.
4) Corners can actually be enjoyed
McPherson struts at the front and a multi-link setup at the rear is pretty much standard issue suspension for this market segment, but there can be vast differences in tuning. The Hyundai Tucson doesn't have a markedly more sporting focus than its rivals but it matches them for comfort and is better than one or two when it comes to controlling its mass through corners.
The steering is nice and direct and though there isn't too much feel through the rim, most drivers won't have any complaints. Steady state cornering reveals ample amounts of grip from the Continental ContiMax Contact MC5 tyres, which reverts to mild understeer when it runs out but when it does happen most rivals would be in the same state anyway. The margins aren't huge and I dare say it would be hard to judge the differences without driving them all back-to-back on the same road at the same time, but the fact the Tucson can hold its own and not get embarrassed by rivals perceived by many to be superior is a minor win in itself.
5) The most interesting interior by far
SUV interiors are all about functionality but there's been a greater focus on styling over the last few years. The Honda CR-V, Nissan X-Trail and Mazda CX-5 all have great looking and ergonomically functional interiors but none of them match the sheer feel-good factor when you sit in the Hyundai Tucson. Admittedly, the garish red leather trim (a costly optional extra) plays a significant part in altering your perception but the design of the various dashboard pieces and the way they've been put together shows a lot of thought went into the design.
The 8-inch touchscreen for instance is perfectly placed for the driver to maintain their view ahead while manipulating the system on the move and the electronic brake frees up space for your left arm. The fat-rimmed three-spoke steering wheel is also very nice to hold while the power adjustable driver's seat offers support and give in just the right places. Perhaps the only black mark is the manual air conditioning but Hyundai do make it up to you by providing navigation as part of the standard spec.
6) The kit-list is impressively long
One of the tricks used by Korean car manufacturers to sell their cars in the early days is load them up with kit. It wasn't uncommon to find a spec sheet to match luxury cars for a humble family hatchback and though they don't have to resort to such tactics anymore, Hyundai are still very generous when it comes to giving their buyers what they want.
Our 2.0L Executive test car came with six airbags, Vehicle Stability Management, Cruise Control, Hill-Descent Control and ABS brakes as standard. Additionally, it also had a Park Assist System with four parking sensors in the front and back along with a reversing camera. Safety is further boosted by ISOFIX mounts in the two outer rear seats while comfort and convenience features include a push button starter, keyless entry and a motorised rear hatch. Add-in the earlier mentioned navigation and this is one impressively kitted out car.
7) Running costs should be low
The Hyundai Tucson comes with a 5-year/300,000km warranty and has free maintenance for the first 3-years or 50,000km so initial maintenance costs should be zero except for consumables. It's claimed fuel consumption figure of 12.7km/L is a little higher than its competitors, but things should even out in the long run and as we haven't heard of any horror stories about previous generation cars failing suddenly, we're going to make the assumption that reliability should be a match for its Japanese rivals.
The Final Word
The days of when a Korean car was given a considerably lower price than its rivals are long gone. At a basic price of RM139,715 before insurance, the Hyundai Tucson 2.0L Executive is actually more expensive than the equivalent Honda CR-V and Nissan X-Trail, so while the higher kit count can justify the premium, it still has to sell on its merits.
Can it do so? We think it can and the numbers seen on the road thus far are testament to this. A good looking product that is practical and drives well and comes with lots of toys will always be appealing even if the badge doesn't carry as much cache. Besides, what is brand image except for perception built on popularity? Sell enough of something and it'll naturally move to the head of the pack.
---
Hyundai Tucson 2.0L Executive
Price: RM139,715.00 (OTR without insurance)
Engine: 2.0-litre, inline-four, petrol, FWD
Output: 153hp @ 6,200rpm, 192Nm @ 4,000rpm
Transmission: Six-speed automatic
Fuel efficiency: 12.7 km/l
Wheels/tyres: 17in alloys, 225/60 R17
Safety: 6-airbags, Vehicle Stability Management
Warranty: 5-years/300,000km