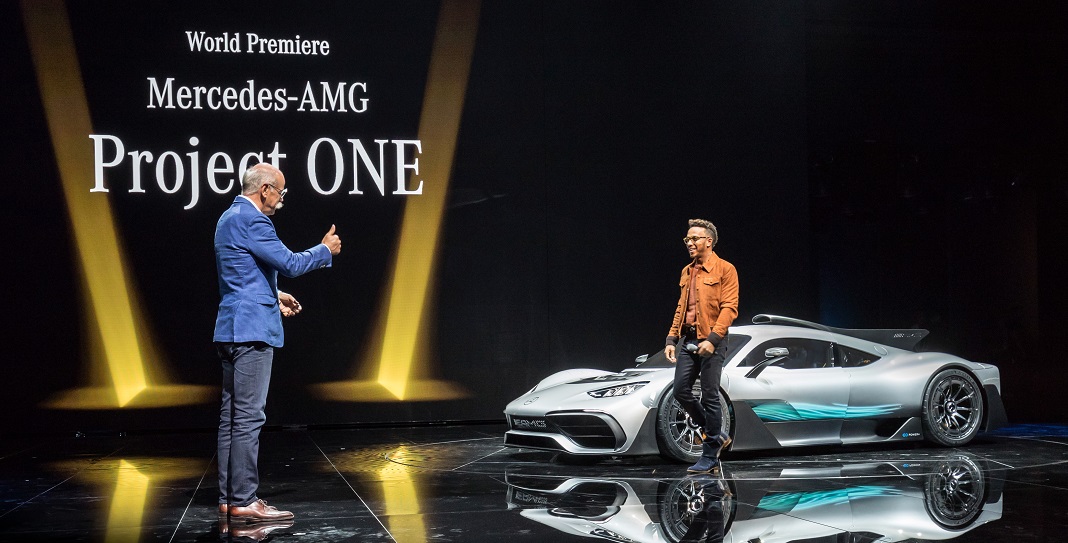 Having a Formula One world champion unveil a 1000hp hybrid hypercar on the eve of the Frankfurt Motor Show was always going to be a show stopper. And the appearance of Lewis Hamilton, a superstar in his own right, did somewhat overshadow the keynote address that preceded his appearance, where the CEO of Daimler and head of Mercedes-Benz cars, Dr. Dieter Zetsche outlined his organisation's approach to mobility in the near to mid-term.
In case you've been living under a rock, the auto industry is at the crossroads, has been for quite a few years now; petrol, diesel or hybrid, battery or fuel cell, sharing or owning, autonomous or human, the list goes on. It doesn't help that the prevailing narrative always seems to pitch one against the other, dividing opinions when an open mind is what's really required. We are not talking about whether a V8 sounds sweeter than a V6 here, the solution to climate change and over populated roads won't come overnight, but it's vital that carmakers keep working at it.
Expressing regret early on in his speech over the loss of trust in German automakers' sustainability efforts (no doubt referring to Dieselgate and its fallout), Zetsche reaffirmed Daimler's commitment to the future of mobility, he also points out that his organisation is in the best possible shape to invest in the future because the current core business is in robust health, with global sales seeing an increase of 13% compared to last year. The statement may be stating the obvious but industry commentators rarely are able to comprehend the level of resources (monetary and talent) required to drive R&D or appreciate how tricky it is for giant car companies to transform themselves into entities that are agile enough to navigate uncharted territories without jeopardising the status quo. The stakes could not be higher.
Pragmatic dreams  
Suffice to say, the carmaker that manages this period of transition and deal with change the best will come out smelling of roses, that much we know. Daimler is convinced that there is no such thing as 'the one correct answer' and that sustainable mobility isn't better served by excluding or banning a certain type of fuel or propulsion which according to Zetsche is a disservice to 'climate politics'. "At the end of the day, every electric car is only as sustainable as the electric it uses," said the good doctor. 
Zetsche points out that efficient diesel engines are still needed to meet CO2 targets and that Daimler will invest €3 billion to develop and produce new diesel engines that would satisfy even the harshest diesel critics. And then there's the mid-term goal – zero emission mobility – and for that, €10 billion will be invested in developing electrified vehicles over the next 10 years, with Mercedes-Benz targeting to offer 50 such models by 2022.
Mercedes-Benz has got your back
Ultimately, what Zetsche conveyed to the media who gathered at the eve of the 2017 IAA at Frankfurt was a message of confidence and assurance – the future of mobility will no doubt be diverse, but Mercedes-Benz will strive to offer choices to its customers in the foreseeable future; be it a rumbly V8 or a hushed EV. This multilateral approach will no doubt stretch the resources at Daimler, but the right things are usually harder to do.