Halo models can be risky business for car companies, being typically costly to produce and slow to sell. The upside is that when the stars align, they can cast a positive light and shape how people perceive the brand. Well, that's the plan anyway.
If you were to ask me some 10 years ago whether I would fancy a Mercedes-Benz (given the means, that is), the answer would probably be a 'Nein'. Nothing much wrong with the products but the 'association' of the three-pointed star with individuals of a more advanced age group wasn't flattering then. How times have changed.
The fact that the C-Class Coupe is represented by no less than five variants in Malaysia is testament to Mercedes-Benz's resolve in paddling a far more contemporary image these days. As a core model of the Dream Car range (which collectively makes up for five percent of total sales), the C-coupe has defied sceptics (myself included) by putting solid numbers on the road, but are they really the stuff of dreams?
C250 and C200 Coupe: Flash for not much cash
There's a reason why the definition of a coupe has been stretched to include unlikely body styles these days; when rendered in the traditional sense (just the two doors and sitting low), the silhouette of a coupe with its slopping roofline, semi-concealed B-pillars and frameless window frames is enticing to the eyes. The W205-generation C-Coupe may never make it to Mercedes-Benz's design hall of fame, but it is nonetheless attractive and well differentiated from the saloon with its S-Class Coupe-like rear end and a swoopy side profile it calls its own.
That and the brand cache of the three-pointed star nestled in the bejewelled front grille are probably enough to secure the buy-in from those who seek a measure of exclusivity without venturing beyond the realm of Teutonic luxury (yeah, Malaysians love their German cars). Of course, one doesn't need a rational excuse to indulge in a coupe, but it helps that the C-Coupe has a usable cabin (seats four adults) that happens to be a comfortable place to be seen in.
There is however one caveat with regards to the 19-inch rim and sport suspension pairing found in the C250 (and C300) – the low speed ride can be unduly fussy in town. It's not so much a case of the damping being too firm as the ride quality does improve with speed, the suspicion falls on the low profile run-flat tyre's ability to cope with rutted surfaces, something which the C200 with 18-inch wheels doesn't suffer from.
At RM310,888 for the base 184hp/300Nm C200, the C-Coupe is a bargain of sorts next to the BMW 420i which starts at RM338,800. Add RM25,000 more (to make RM335,888 and still more affordable than the Beemer) and you can get into the 211hp/350Nm C250 with a sportier demeanour and a posher interior. No wonder Mercedes-Benz is practically having this slice of pie all to itself.
C43 4MATIC Coupe: Middle ground need not be a compromise
I think Mercedes-Benz got lucky with the C43, either that or they've been sandbagging. In between the delightfully tuneful AMG-fettled 367hp/520Nm twin-turbo 3.0-litre V6 and well-calibrated chassis, the C43 manages to pose the question of whether you even need a C63S. Yeah, it's that good, especially when you consider the middle ground is always the hardest to straddle.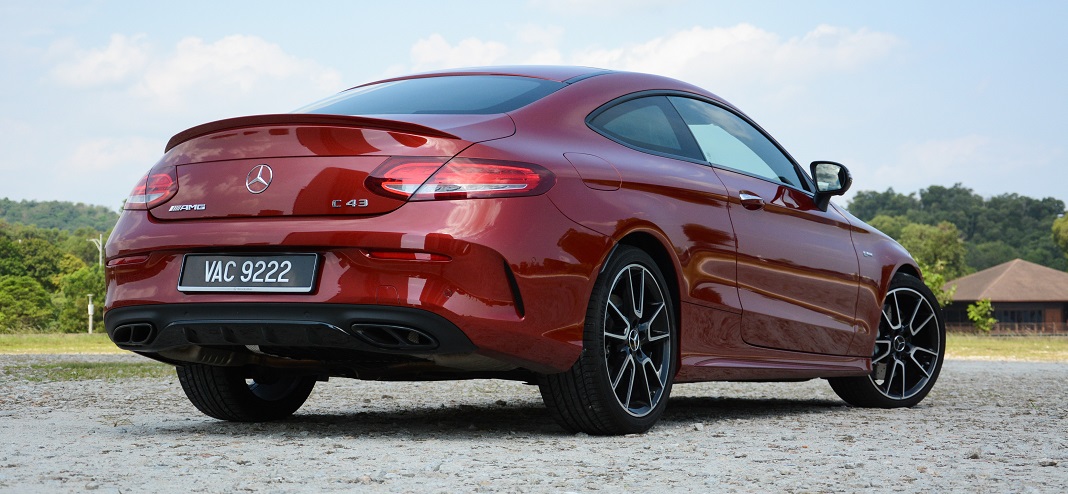 The breadth of abilities which the C43 brings to the table dispels any notion of it being a lukewarm or compromised AMG model. For starters, it looks the part, it's civil and refined when you want it to be a daily driver, but it's also properly fast (0-100km/h in 4.7 seconds) and does the reputation of AMG no disservice if you ever take it to the track. The ratio of 31:69 may sound like Manchester City's dominance in possession on the football pitch, but it also points to how the C43 apportions torque between its front and rear axles. Oh boy, does the 4MATIC all-wheel drive system work.
In a brisk drive to the highlands, on damped roads after rain showers and with the tri-mode AMG Ride Control adaptive dampers slackened to 'Comfort' to allow for more compliance, the C43 barely broke traction no matter how the throttle was being 'injudiciously' applied in tight corners.
What makes it more compelling is that the C43 still feels predominantly driven by its rear-wheels despite the fixed AWD torque split, its front axle seemingly untainted and doggedly responsive to steering inputs by resisting understeer in the extremis. It's a simple verdict: the C43 is the real deal, but you'll need to find RM548,888.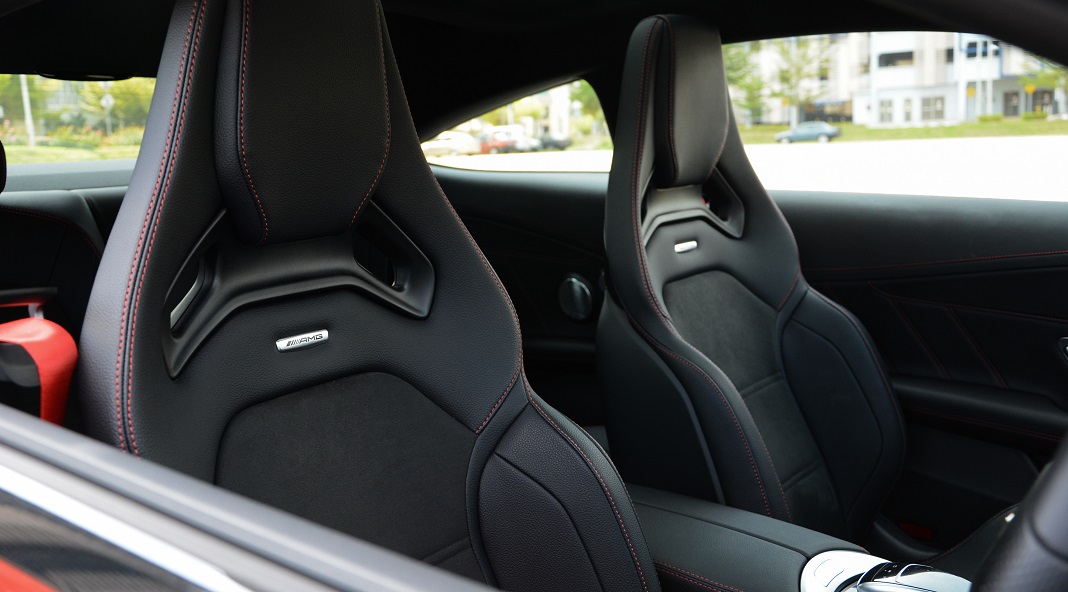 C63S Coupe: The attention-grabbing V8
Strategists and planners at Mercedes-AMG will look back with quiet satisfaction at the decision made some years ago to stick with a V8 for the C63S coupe while rivals downsized. Hindsight is 20/20 as always, but it would appear that there isn't a substitute for cylinders and displacement, not yet anyway.
If you needed to know the German take of a muscle car, the C63S Coupe would be it. It's easy to be sidetracked by the theatrics and orchestral performance of the 510hp 4.0-litre twin-turbo V8 and AMG exhaust system, but as far as performance benchmarks go, the C63S has clearly raised the bar for a car of this class with that storming powertrain, and it isn't exactly lacking in finesse either.
With 700Nm powering its rear wheels, you'd expect the C63S to be a little wayward like past AMGs tended to be, but this isn't the case anymore with its wide stance and clever locking diff at the back. If anything, the C63S has evolved into this incisive machine that's devastatingly quick on the track, with an abundance of grunt to haul it from one corner to the other. Idle to 100km/h takes 3.9 seconds.
On narrower public trunk roads with less-than-smooth surfaces, the C63S is perhaps too firm and too tightly wound for its own good, even when the electronics are dialed to their gentlest setting.  But when the C63S is given room to unleash that angry V8 and utterly rude exhaust, all is forgiven.
Brand shaping experience?
It's hard not to be seduced by a line-up of cars that delivers style, performance and the ultimate bragging rights. Every model of the C-Coupe tested here has a unique expression of its own, targeting hearts and minds of different customers. They aren't perfect but they all left an indelible impression of what the Mercedes brand stands for today. 'Dream Cars' sounds a little cliché, but it's always good to dream.
Mercedes-Benz C200 & C250 Coupe
Price: RM310,888 (C200), RM335,888 (C250), Engine: 2.0-litre turbo four-cyl, RWD  Output: 184hp/300Nm (C200), 211hp/350Nm (C250) Transmission: 9-sp automatic Performance: 0-100km/h in 7.3s (C200), 6.6s (C250); top speed 235km/h (C200), 250km/h (C250), Wheels/tyres: 225/45 R18, 255/40R 18 (C200); 225/40 R19, 255/35 R19 (C250) Safety: 7 airbags, Electronic Stability Control Warranty: 4-year/unlimited.
Mercedes-AMG C43 4MATIC Coupe
Price: RM548,888 Engine: 3.0-litre twin-turbo V6, AWD  Output: 367hp/520Nm Transmission: 9-sp automatic Performance: 0-100km/h in 4.7s; top speed 250km/h (limited) Wheels/tyres: 225/40 R19, 255/35 R19 Safety: 7 airbags, Electronic Stability Control Warranty: 4-year/unlimited.
Mercedes-AMG C63S Coupe (Edition 1)
Price: RM773,888 Engine: 4.0-litre twin-turbo V8, RWD  Output: 510hp/700Nm Transmission: 7-sp dual-clutch automatic Performance: 0-100km/h in 3.9s; top speed 250km/h (limited) Wheels/tyres: 255/35 R19, 285/30 R20 Safety: 7 airbags, Electronic Stability Control Warranty: 4-year/unlimited.