If Colin Chapman was alive today, I wonder what he would say about the new BMW M5. For someone who expounded the ethos of 'simplify, then add lightness' and applied that so effectively to his cars, Mr. Chapman would have been at odds with the M5, which is anything but simple and light.
At 1930kg (with driver), the BMW M5 employs raw power, M mechanicals and serious number crunching to game the laws of physics which are clearly not in its favour. That it had to make its Malaysian debut over the 15 turns and two long straights of the Sepang circuit only added to the challenge. The logic in launching your most fearsome saloon on a former F1 circuit may be a sound one (where else to show off 600hp and 750Nm, right?) but it also meant that the M5 would be judged under a harsh (sun)light, well away from its natural habitat of open roads.
Brawn with brains
It goes without saying that the new M5 is more powerful and faster than the previous one despite 'soldiering' on with the 4.4-litre twin-turbo V8, which in its latest iteration produces 40hp and 70Nm more for a staggering output of 600hp and 750Nm. You probably know this already but it's worth mentioning again that this near two-tonne car does 0-100km/h in 3.4 seconds, on par with a Porsche 911 GT3, so let that sink in for a second.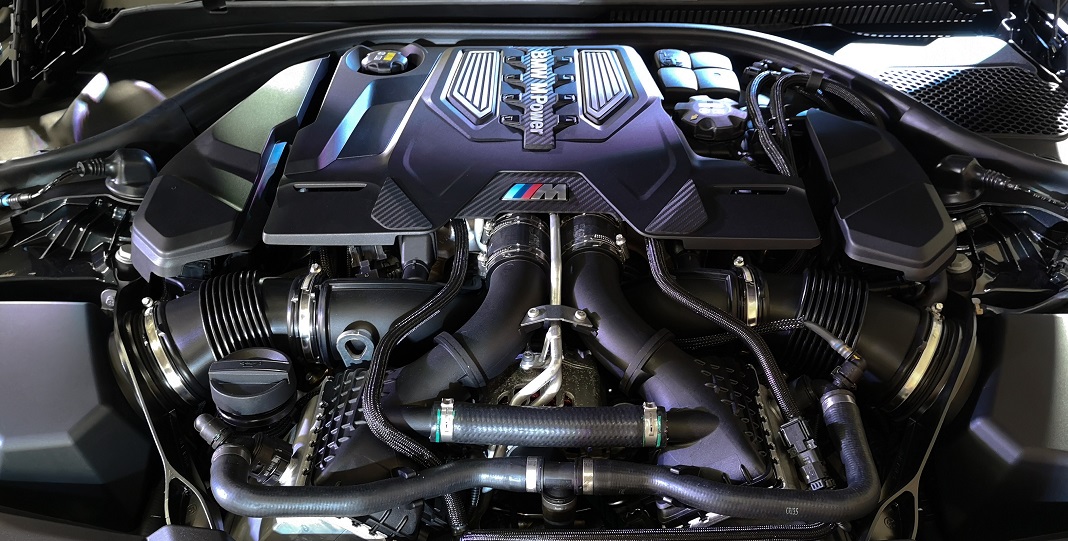 The trick then is to have all four wheels deliver all that grunt, more a necessity these days given what the M5 and its ilk have essentially become – high-tech German muscle cars. It is however not the first M car to do so; the X6 M and X5 M SUVs already rely on all-wheel drive working in tandem with the eight-speed ZF automatic (bye, bye seven-speed DCT), but the BMW super saloon offers a rear-wheel drive-only mode (sans electronic nannies) if you're up for the challenge.
Where the previous-generation F10 M5 would lose drive and slip its rear wheels under acceleration in corners, this M xDrive-equipped F90 M5 gets on with the business of surging forward even in tricky traction areas such as the exits of Turn 4 and 9 of Sepang. As long as any of the 4WD modes is engaged, 750Nm can be deployed with surprising ease, you just have to trust the electronics and keep the nose pointed straight.
The not unexpected outcome of having AWD, even in its most rear-bias setting (4WD Sport) is that the M5 will gently nudge its front end off the intended line in mid corner if you're not judicious with the loud pedal. It's sacrilegious in BMW fandom to associate an M car with an Audi RS model but on this track, in extremis…say coming out of Turn 15 and on to the main straight, the balance of the M5 does feel like something that hails from Ingolstadt. It's no crime and in the real world, i.e. public roads, I'll take manageable understeer over the rears slipping any day.
Still a business athlete, but on steroids
We already know that the G30 5-Series is an accomplished handler and a clear class-leader when it comes to subjective pleasure behind the wheel, as one would expect from a BMW. The M5 is no different but it elevates that honour by expertly masking its mass in the punishing fast sweeping corners of Sepang (such as Turn 5 through to 8) while still feeling exceptionally composed and light through the steering, seemingly untroubled by the high lateral loads gnawing away at its Michelin Pilot Sport 4S rubber. In this sense, the M5 really does defy physics…until you arrive at the heavy braking zones.
Maybe it's because the tyres and brakes were already quite second hand by the time I got behind the wheel (thanks Tom), but under braking in Turn 1, 4 and particularly in the slightly downhill 9, the M5 would squirm and even do a wiggle as it tries to cope with the inertia and weight shift. There's no question of the stopping power even if the brake pedal travel did get uncomfortably long (otherwise this would be another kind of story), but the realisation that the F90 M5's suspension kinematics is more suited for the road rather than track, and that the M5 is a 'business saloon' at the core finally came to pass, though I can imagine just how devastatingly rapid the M5 would be on open roads, while ferrying a full load of passengers in comfort.
What does M mean these days?
While many who turned up at Sepang to sample the M5 were bowled over by the super saloon, some would have left feeling more impressed by the smaller and less powerful M2 coupe. Yes, it's physics; a lighter car will always be nimbler on a race track, but it was the instant connection that the M2 struck with drivers that made it that much more compelling than the M5, or even the grown up M4 coupe for that matter.
You see, there was a time when the BMW M division wouldn't even bat an eyelid when Mercedes-AMG or Audi Sport touted more horsepower, technology or faster straight-line acceleration. The M cars of yore, perhaps even just a generation or two ago, were devised to please a small group of customers who chose driving over boasting. They were truly bespoke. Of course, it's a different world we live in today and while the resulting one-upmanship made modern M cars more complete than ever, they've put on weight and are layered with even more complexities. Perhaps the letter M stands for 'More' and no longer 'Motorsport'.
BMW M5
Price: RM942,759.86  Engine: 4.4-litre twin turbo V8, AWD/RWD  Output: 600hp / 750Nm  Transmission: 8-speed auto w/ steering shift paddles  Performance: 0-100km/h in 3.4s; top speed 250km/h (limited, of course)  Wheels/tyres: 275/35 R20 (F), 285/35 R20 (R)  Safety: 6 airbags, Electronic Stability Control  Warranty: 5-year/unlimited w/ schedule service and 2-year tyre warranty