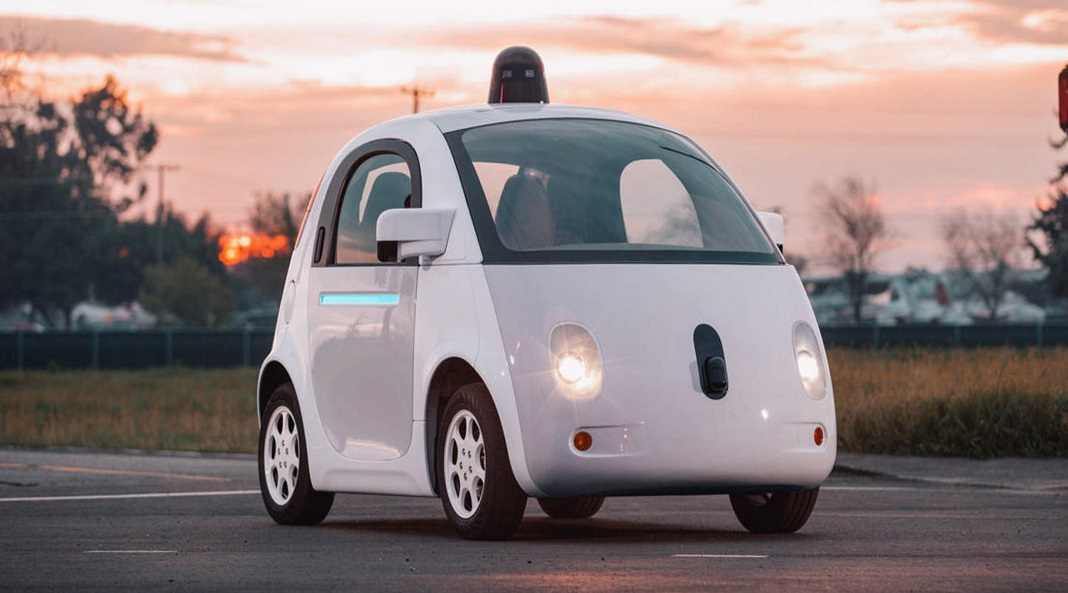 As someone who loves driving, growing up in an era where the internal combustion engine thrived, the image of Google's self-driving electric pod (above) is the stuff of nightmares. I can live with high-torque electric motors replacing fuel-guzzling V8s, synthesised audio for the reverberations of a carbon-spewing exhaust, even talk to cars and have them answer back, but to have a computer take over the wheel entirely, I'm not sure if I would like that.
As I made my way to a nondescript meeting room a couple of floors above the bustle of the Frankfurt motor show to meet with Sajjad Khan, Executive Vice President and Member of the Divisional Board for CASE (Connected, Autonomous, Shared & Services, and Electric) at Mercedes-Benz – which is to say he's in charge of piecing together the technology puzzle that will power Mercedes-Benz cars of the future – it was the perfect opportunity to comprehend why and what is driving this.
Khan, who had oversaw the launch of the MBUX, or Mercedes-Benz User Experience – a new, ground-up new multimedia infotainment system which can be seen in models such as the A-Class – bore the look of a person who's racing against time as we exchanged handshakes, though that didn't prevent him from noticing my notepad which bore the faint watermark of a rival brand, immediately querying his PR minder as to why I wasn't using Mercedes-Benz stationary. We skipped pleasantries and went straight for the 'main course'.
What is it about MBUX which Google Assistant, available through Android Auto for example, can't provide?
SK: A car experience is different from a non-car experience, the MBUX provides you the experience while driving, and you can control the car environment through MBUX. For example, you can tell the car to adjust the ambient lighting or that you're feeling cold to raise the air-conditioning temperature.
The MBUX is tailored and programmed for the car environment. In a non-car environment, your attention span is much higher compared to the milliseconds in a car environment, spread over different screens. MBUX differentiates itself because it is completely focused on the car environment, and that adds greater value to the customer. While driving, the safety of the driver and passengers, and the people around the vehicle, this is of utmost importance for us, not to divert the attention of the driver, eyes on the road, hands on the wheel.
MBUX in the current form is an attractive looking interface with sharp displays, obviously you have a lot of plans for it, what kind of interface will we get in the Concept EQS for example?
SK: To try to make it even more natural in how you interact with the machine, compared to other technologies you may find in the market. In the MBUX, you saw a huge progress in terms of speech interaction in the vehicle environment, you can make a complex request or command and say, 'Hey Mercedes, get me to San Francisco and reserve a table between 7pm to 9pm in a Chinese restaurant, and that the restaurant should have WiFi." You can make extremely complex negotiations.
While creating MBUX, we worked hard on the interaction side, keeping it simple for the customer. MBUX 2.0 will enhance that to another level. As to which kind of interaction technology on the EQS, I will leave that to your imagination.
Sharing a photo on Instagram or Facebook is very different from sharing a car. Does Mercedes-Benz data show that younger consumers are more willing to share the use of a car…taking into consideration that car ownership has always been something that's private.
SK: Let's be honest and frank. There will be people who may not like to share and there are those who would, so there would be a combination of both. Our job is to make the technology available. Not everyone is sharing their apartments, but Airbnb is doing quite well. We give the liberty and freedom to our customers to make a choice whether they would like to share their vehicles or not. We have made that available via MBUX and our data shows that the people are using it.
Manufacturers are in a race against each other to build cars that are fully autonomous, for someone who has grown up driving from an entirely analogue point of view, is this what customers really want, to relinquish control in the future?
SK: It's a combination of both, I make a simple analogy for you. For people who had been riding horses, and it was a passion for them, but when they got into the car made by Gottlieb Daimler, they were able to travel a particular distance in one hour instead of eight to nine hours (on a horse), they were thankful that the car gave them back seven to eight hours.
If you use one hour to drive to the office in the morning and we can give you back that one hour to do something else, either talk to your loved ones or work on things, to make use of the time. I call it 'from the beggar to the king'; 24 hours is 24 hours, a king cannot say I can have a day of 36 hours, so that's a limiting factor in life.
We are working hard in developing the technology on autonomous driving and we believe 100% that it will be appreciated because we are able to give the time back. For people who love to drive, they would still have the opportunity to indulge in their hobby, but they will be thankful to have the time back when the car is driving itself, and we can provide that.
Do you think that cars will become less distinguishable and less appealing with automation and minimised human interaction?
SK: No, we are moving an emotional product and we are in the game of premium luxury. While we make the technology available to the customer, the premium differentiation is always part of who we are. You wear a blue jacket with a red and a white stripe on it, and I wear a blue jacket with the boxes motif, differentiation is ingrained in our DNAs. Your house is different compared to mine, your iPhone may have a different cover on it than mine. This will remain.
(For the record, I was wearing a blue jacket as described, but I don't own an iPhone)
My understanding of CASE is that it's an approach to lead the development of future cars, is that correct?
SK: CASE is a focus-driven approach. There is a huge transformation going on in the transportation industry at the moment. This is driven by technology in two perspectives. Number one is energy, and the other is digital or software. These two things are driving the transformation of the whole industry and this is happening much more aggressively than we think. Take for example, Uber, Lyft and Didi, they have an app and a server and they have totally disrupted the transportation industry, and then you also have Tesla on the EV side.
What we are doing with CASE is we are focusing on these areas, in addition to what we've been doing well in the last 20 to 30 years. We will still have the premium interior, best exterior designs and engineering, but we are now focused on connectivity, autonomous driving, shared services and electrification.
What are the main challenges to adopting this holistic approach?
SK: I think the biggest challenge is the availability of talent in the world. That's why we have opened a digital hub in Seattle, a software hub in Tel Aviv, Beijing and even one in Berlin. We already have one in Sunnyvale, Silicon Valley, we also have one in Bangalore in addition to Stuttgart. The main thing here is talent, and that is the biggest challenge we all are facing.
The are many talented people in the world who are developing new technologies for autonomous (drive) and space (travel), and then there are also many working to capture more eyeballs on advertisements on Google and Facebook, unfortunately there are more on the second one at the moment. So, we are trying to attract the talent to solve the humanity problems, to be CO2 neutral, to give time back to drivers through autonomous drive. How do we attract the talent from advertisement towards solving humanity problems, that's the second challenge.
Does it feel as if Mercedes-Benz is becoming a Google, almost assuming the persona and mindset of a tech company?
SK: We have always been a tech company. The question is what kind of a tech segment are we talking about? If we are talking about energy and the software which we have a strong focus on, then I would completely agree with you. As a tech savvy company, we have always been that, we invented the ABS, ESP…now we are getting more tech savvy on software. Our focus is different compared to Google, we aren't trying to get advertisement eyeballs, we are solving the big problems and that's what wakes us up in the morning.
Describe your ideal car of the future?
SK: It would be a CO2-neutral car, it can be electric, fuel cell or another kind of technology available from the energy side. It would also be an intelligent car, from the perspectives of autonomous, connectivity, shared services, and with the simple pleasures of premium luxury. I would look forward to that.